Buy safely online | Delivery to your door | Trade-in possible
Volkswagen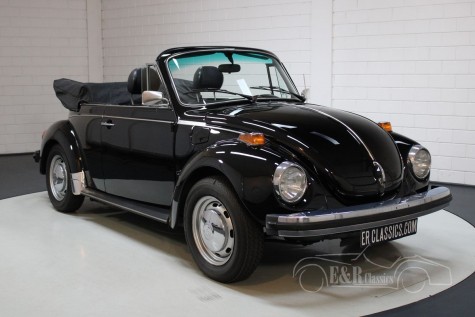 Volkswagen is a very popular brand among classic car enthusiasts. If you are the proud owner of, for example, a VW Beetle or Karmann Ghia, you will undoubtedly need parts regularly. To ensure that you can fully enjoy your classic car hobby and keep your classic car in top condition, E&R Classics has listed a number of VW specialists where you can order classic VW car parts online.
Get advice from E&R Classics, your classic VW specialist
Volkswagen is one of the most sold brands at E&R Classics and we know better than anyone what to look out for when buying spare parts. Whether you drive short distances or use your classic car to drive rallies, it is very important to work with the right quality parts. Our mechanics are busy every day to get various classic VW cars in top condition. They are happy to share their knowledge about classic Volkswagen parts with you and are happy to introduce you to a number of reliable suppliers.
Buy your classic Volkswagen parts online
If you urgently need parts for your classic VW, it is best to buy them online. Most Volkswagen specialists with a physical store also have a web shop. When you order a part, it is often delivered the next day. When searching for parts, you can easily filter by model, year of manufacture and the part you need. It is then up to you to compare different specialists and choose which supplier to go for. On this page we are happy to help you with this and introduce you to a number of suppliers.
Various spare parts for different classic VW cars
Volkswagen has released various models in the past that are now immensely popular among classic car enthusiasts. There are even specialists who specifically focus on the sale of parts for a particular VW classic car model. A number of well-known Volkswagen classic cars are the Volkswagen Beetle, Scrirocco, Beetle Cabriolet, Karmann Ghia, T1 Bus, T2 Bus and the VW Golf. All different Volkswagen classic cars for which various parts are available.
To ensure that you can enjoy your Volkswagen classic car for as long and as well as possible, we have listed a number of specialists on this page where you can order parts. Click on one of the VW specialists below and view the parts in their webshop. E&R classics does not sell or deliver parts itself, these specialists will do that for you.
Wide range of classic Volkswagen cars in stock
In addition to advice in the field of classic car parts, you are very welcome in the largest classic car showroom in Europe. We always have more than 400 classic cars in stock and a wide range of Volkswagen classics.