We buy and sell classic cars worldwide
Classic cars for saleSell your car
CLASSIC CARS FOR SALE
Welcome to the website of E & R Classic Cars Holland, THE Oldtimer and Classic Car specialist.
Our company emerged from our passion for classic cars. Due to the successful results, E & R Classic Cars has become one of the largest classic car dealers in Europe. We're specialized in purchasing, selling and consignment of oldtimers and classic sports cars. We purchase and sell a wide range of classiccars but the emphasis lies on the following brands: MG, Triumph, Austin Healey, Jaguar, Porsche and the classic Ford Mustang. Besides these brands you'll also quite regulary find unique models from other historic brands in our showroom, such as Rolls Royce, Bentley, Buick, Cadillac, Alfa, Fiat, Volvo and Volkswagen. Come visit our showroom in Waalwijk!
Each and every oldtimer is unique and differs from another. Let us help you making the perfect choice that suits you. Circumstances such as budget, phase of life, family composition, technical knowledge and perhaps the desire to work on an oldtimer yourself vary by customer. Even if you have no technical knowledge at all you can still have fun with a well maintained oldtimer by E & R Classic Cars.
Nowadays you don't need to work on oldtimers yourself anymore, those days are over. However, we also do have restoration cars for enthusiasts who like to restore a vintagecar themselves. We can also assist in a restoration project.


BUYING A CLASSIC CAR?
We always have over 250 classic-cars for sale. Looking for an original classic car? You've come to the right place! The oldtimers in our inventory are coming from all over the world. Because of our competitive prices, we sell our classic cars worldwide, and have experience in arranging transport around the globe. Besides purchasing, selling and consignment, we also offer technical services in a fully equipped workshop with specialized and trained oldtimer-mechanics. We can provide you with all necessary activities to your classiccar. Wether your oldtimer needs welding, painting, service or repair, you're always welcome to our workshop.
All cars sold by ERclassics (except restauration projects) have been thoroughly tested and checked with a 125 points checklist in our professional workshop. Through our years of experience we have been able to develop this complete checklist to guarantee quality and safety of our classic cars. Our comprehensive classic car checklist contains items such as corrosion and damage inspections, cylinder compression tests and much more. After completing the checklist, repairs or maintenance will be performed if necessary, so we can make sure that you'll be buying a roadworthy and fully reliable classic car!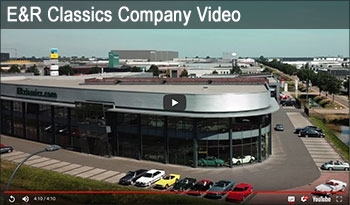 JC, Belgium

Thank you for your e-mail and for the two handles. I am very pleased with your kindness and your professionalism. I can not say enough good things about your business.

Stu, USA

The Fire truck arrived... I LOVE IT!!! Thank you so much for the good business.

Sam, UK

Received the Porsche 912 today. Exactly what we expected. Thank you very much.

Keith, Luxembourgh

The Jag has arrived and looks fabulous. Your delivery guy was brilliant and took great care with the unloading, a real professional. Everything seems in order and I have it insured ready for Registration next week. In the meantime, a big thank you to you and your team for a very smooth transaction.

Gonzalo, Spain

The car arrived in perfect condition yesterday. Thanks a lot, great service!

Roland, Germany

Today, I received the 2 cars I bought at your company. I'm very satisfied, the condition of the cars is as you described them. I'm looking forward doing business with you again.

Naoki, Japan

Autobianchi from you has arrived safely.

David, Belgium

Thanks for the delivery and compliments to the seat manifacturer! On to the next!

Mickael, France

Hi Ernest, I have received my Triumph in good condition. She is beautiful and I am very satisfied. Thanks again for your sincerety and kindness.

Umberto, Belgium

I am satisfied from start to finish, I hope that I am very lucky with the car.

Arndt, Germany

I am always happy to hear from you and wherever I tell you about my MGA, ERClassics is always called very positive! So a little Essen can also be experienced every day. All the best for the entire team!

Guy, France

We received the car on wednesday, and are very happy with it. Everything is ok and hopefully we will enjoy driving the countryside with our new car!

Igor, Belgium

We are very happy with the car. Compliments to you for the service and to the driver who delivered the car.

Stefan, Belgium

I was at your company lately and it was a pleasant acquaintance. The sellers were very kind.

Jean-Claude, Belgium

I am very pleased with your kindness and your professionalism. I can not say enough good things about your business.

Xerxes, Spain

I received the car yesterday. Tom, the transport guy, was excellent, perfect timing, the car arrived with individualized transport. Tom took the car out of the trailer into the garden. I wanted to thank the ER Classics team for the great service, but I also want to recommend Tom as a transporter for he has delivered an excellent service.

Michael & Angela, Germany

We would like to thank again - especially your coworker Lard van Dongen, for the service we got delivered.We received a warm and great welcome.We would be glad to visit your showroom again.

Nick, Spain

We arrived safely in Mallorca. Thank you very much for preparing the car so well.

Roland, France

The car was delivered and arrived without damage. I thank your for the service and communication too.

Pierre, France

Hello, the Triumph TR6 was delivered, transport went well, a very beautiful car, thanks! See you soon.
Read more (186)
In-house workshop with over 20 mechanics

Registration and inspections (NL/BE/DE/FR)

International door to door delivery