Buy safely online | Delivery to your door | Trade-in possible
Ford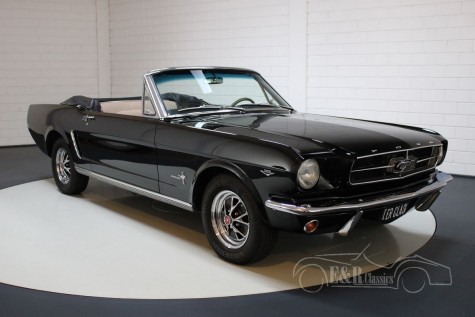 Do you own a classic Ford and do you regularly need parts? Then read on quickly! In addition to the purchase and sale of youngtimers and classic cars, E&R Classics can also advise you in the field of classic car parts. Whether you are looking for Ford classic car parts as a private person or company, it is always important that you order good quality parts from reliable suppliers. On this page we explain which parts are available, how you can best order parts and we introduce you to a number of reliable Ford specialists.
Various classic Ford parts
Given the great diversity in the number of Ford classic car models, there are also a lot of different parts available. Think of parts such as brake discs, brake pads, water pump, radiator, engines and gearboxes. Then there are also universal parts for Ford such as gaskets, pipes and lamps. Numerous parts and accessories are available for both repairs and enhancing your classic car.
Ford parts for different classic models
Ford became world famous with the Model T, the first mass-produced product. Since then, the brand has released many different models. A number of well-known Ford classic cars are the Ford Model A, Ford Thunderbird, Ford Capri, Ford Taunus, Ford Mustang and Ford Cortina. All models for which Ford specialists make parts.
Buy your classic Ford car parts online
There are both second-hand / used and new parts for classic Fords available. Every year there are various fairs / events where you can get classic car parts. However, it is often much easier to order Ford classic car parts online. This way you can easily search for the right part, compare different web shops and have the products delivered to your home. What more could you want?
Ready to buy your classic Ford parts?
Do you need parts for your Ford classic car and are you about to buy them? Then use the expertise of E&R Classics. Our mechanics are busy with maintenance on classic Fords on a daily basis and know better than anyone what to look out for when buying parts. On this page we introduce you to a number of reliable Ford specialists where you can easily order parts online. Feel free to click on one of the links below and contact the specialist. E&R classics does not sell or deliver parts itself, these specialists will do that for you.
E&R Classics has more than 400 classic cars and young timers in stock
Are you looking for a Ford classic car and wondering if your dream car is in our showroom? Feel free to click on one of the buttons below for more information. With more than 400 classic cars in stock, there is always a car that suits you.