Buy safely online | Delivery to your door | Trade-in possible
Peugeot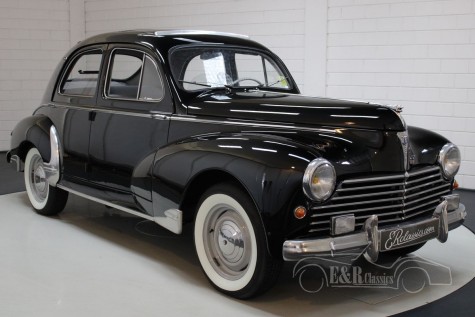 Peugeot classic car parts can be bought in various ways, for example by visiting fairs and events or ordering easily and quickly online. If you also prefer to order parts online, then you've come to the right place. On this page we introduce you to a number of Peugeot specialists and also reliable parties where you can order parts online.
Get advice on ordering classic Peugeot spares
At E&R Classics, we deal with the purchase and sale of various classic cars, including Peugeot, on a daily basis. An important part of our service is the technical preparation of all classic cars. Our team of mechanics works on this every day and they know better than anyone what to look out for when ordering Peugeot classic car parts. The Peugeot specialists that we mention on this page are reliable suppliers of Peugeot classic car parts.
Spare parts for various classic Peugeot models
A car brand with a rich history such as Peugeot naturally has many different models. When looking for parts, it is very important to pay attention to ordering the right parts. A number of popular Peugeot classic cars are the Peugeot 201, 504, 203, 304, 404 and the Peugeot 205. When you order Peugeot classic car parts online, you can often easily filter by year and model. You will then receive an overview of all available parts in the webshop.
Different types of parts for classic Peugeot cars
Almost no Peugeot model is the same and therefore all parts are different. Some of the most bought parts for Peugeot classic car are: gaskets, brake discs, brake pads, water pump, radiator and more. You can also think of optical parts such as decorative strips, mirrors, bumpers and windows. Where these types of parts are often specifically intended for one model, there are also universal parts such as pipes, lighting, gaskets and other things.
Are you looking for a classic Peugeot spare parts specialist?
Are you looking for parts for your classic Peugeot? Then let yourself be advised by the largest classic car specialist in Europe, E&R Classics. With more than 400 classic cars in stock, we know better than anyone how important it is to work together with good, reliable suppliers. On this page we introduce you to a number of specialists where you can order both new and second-hand / used Peugeot parts (online). View a supplier of your choice now and feel free to contact us. E&R classics does not sell or deliver parts itself, these specialists will do that for you.
Always more than 400 classic cars in stock
In addition to advice on Peugeot classic car parts, you can also contact us for buying and selling classic cars. With more than 400 classic cars and young timers in stock, we fors ure can call ourselves the largest classic car showroom in Europe.