Buy safely online | Delivery to your door | Trade-in possible
Fiat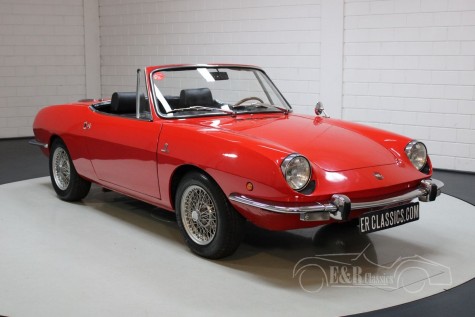 Are you looking for parts for your Fiat oldtimer? Then let the professionals of E&R Classics advise you. In addition to the sale of oldtimers and young timers, we have a workshop with 20 mechanics who are daily engaged in the maintenance of Fiat oldtimers, among others. With all the options available nowadays to buy parts, it can seem quite overwhelming for some oldtimer enthusiasts. On this page we explain exactly how best to order parts and who are reliable suppliers.
When do you need Fiat oldtimer parts?
Just like with modern Fiat models, a classic car also needs attention and love to remain in the best possible condition. Of course you want to be able to enjoy your Italian classic for as long as possible, and maintenance plays an important role in this. By using the right Fiat oldtimer parts and replacing them on time, your Italian oldtimer will remain in top condition. Some enthusiasts like to tinker with their oldtimer, others prefer to have it outsourced. Nevertheless, it is good to know what parts are available at what price.
Buying Fiat oldtimer parts (online)
In recent years, more and more Fiat specialists have offered the opportunity to buy parts online. Where you previously often went physically in the store, sales now mainly take place via web shops. You can easily find the right Fiat parts on the sites and have them delivered at home with the push of a button. The big advantage of buying Fiat oldtimer parts online is that they are often delivered the next day.
Fiat oldtimer parts for different models
When you think of Fiat, you soon think of the iconic Fiat 500 oldtimer. There are therefore numerous specialists who focus specifically on this model and that is why many parts are for sale. But what about other popular models such as the Fiat 124, Fiat 126, Fiat 600, Fiat Panda and the Fiat 800. Each of these models that are very popular among Italian oldtimer enthusiasts.
Different types of parts for Fiat oldtimers
There are other types of parts available for every type of Fiat oldtimer. For example, parts for a Fiat 500 oldtimer will be different from parts for a Fiat 800. The big advantage of buying parts online is that you can easily filter by model and year in a webshop. You will then receive an overview of all available parts. Common parts include tires and rims, bumpers and trim, emblems and decals, engine parts, gaskets, brake systems, mirrors, rubbers, exhausts and lights.
We are happy to share our Fiat oldtimer knowledge with you
To ensure that you order the right parts for your beloved Fiat classic car, we would like to introduce you to a number of reliable Fiat parts specialists. Feel free to click on one of the links below and contact the specialist. E&R classics does not sell or deliver parts itself, these specialists will do that for you.
E&R Classics has more than 400 oldtimers and youngtimers in stock
Are you looking for a classic car and wondering if your dream car is in our showroom? Feel free to click on one of the buttons below for more information