Buy safely online | Delivery to your door | Trade-in possible
Austin Healey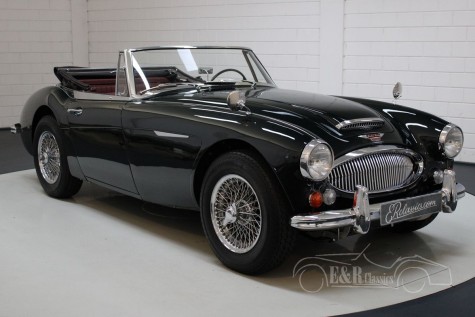 Do you own an Austin Healey and are you looking for spare parts? Then you have come to the right place. In addition to purchasing and selling classic cars, E&R Classics also has many years of experience in classic car parts. Our team of more than 20 mechanics works daily with classic cars such as the Austin Healey and uses a lot of parts. Of course it is very important to work with reliable suppliers. On this page we would like to share with you the knowledge and experience we have built up in the past.
Diverse range of classic Austin Healey parts
As real classic cars, almost all Austin Healeys are different. This means that many parts are only suitable for a specific type. Consider, for example, an Austin Healey 100, Austin Healey 3000 MK3 or the Frogeye. These are several generations of Austin Healey models with associated parts. Whether you are looking for a steering gear, brakes, trim, bumpers or other parts, you can find it all at one of the suppliers on this page.
Buy Austin Healey parts online
How do you prefer to buy Austin Healey parts: at the fair, from a classic car specialist or online? Most often classic car parts are ordered online. When so, it is very important that you do this with a reliable party that trades the right brands. We would like to introduce you to a number of reliable suppliers.
We are happy to share our Austin Healey classic car knowledge with you
We would like to share our knowledge with you in order to maintain the classic car hobby and to keep it accessible to everyone. Below are some Austin Healey parts specialists we can recommend to you. Feel free to click on one of the links below and contact the specialist. E&R classics does not sell or deliver parts itself, these specialists will do that for you.
E&R Classics is your specialist in the field of classic and youngtimer cars
E&R Classics always has more than 400 classic cars in stock in the largest classic car showroom in Europe.