Buy safely online | Delivery to your door | Trade-in possible
Mercedes-Benz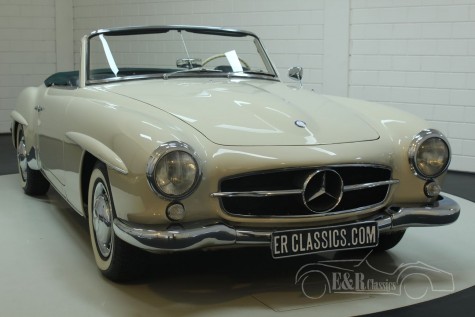 Are you the proud owner of a Mercedes-Benz classic car and do you enjoy tinkering? Then you probably need parts on a regular basis. Both hobbyists and companies are busy with Mercedes classic cars on a daily basis and buy their parts from various suppliers. To ensure that you buy your parts from a reliable party, we are happy to share our knowledge with you.
E&R Classics: your specialist in classics Mercedes-Benz parts
In addition to the purchase and sale of various vintage cars, including Mercedes-Benz, E&R Classics also deals with various parts on a daily basis. For example, all our purchased and sold classic cars undergo a thorough inspection by our team of more than 20 mechanics. If something is wrong with a classic Mercedes, parts will be ordered immediately and the problem will be solved by our mechanics. They know better than anyone what to look out for when ordering Mercedes-Benz classic car parts. The Mercedes-Benz specialists that we offer on this page are reliable parts suppliers.
Buy your classic Mercedes-Benz parts online
Do you urgently need Mercedes-Benz classic car parts? Then it is best to order it online. There are numerous classic Mercedes specialists online who sell parts online via a web shop.
Here you can easily filter by the type of Mercedes-Benz, the year and the type of part you are looking for. Another advantage of ordering classic Mercedes parts online is that you can easily compare various providers and have the products delivered to your home. In most cases you order a part and it will be delivered the next day. Parts can vary from gaskets, brakes, lights, trim, bumpers, exhausts and driveshaft's. You can also buy complete Mercedes-Benz engines and gearboxes online.
Parts for various classic Mercedes-Benz models
Mercedes-Benz has been an immensely popular car brand for decades. Many different models have been released over the years. A number of popular Mercedes-Benz classics are: the Mercedes-Benz 190 SL, SE, Ponton, Pagode, CE and the Heckflosse. All different Mercedes models that all need different parts. To ensure that you can enjoy your Mercedes-Benz classic car for as long and as well as possible, we have listed a number of specialists on this page where you can order parts. Click on one of the Mercedes-Benz specialists below and view the parts in their webshop. E&R classics does not sell or deliver parts itself, these specialists will do that for you.
Diverse range of classic Mercedes-Benz in stock
In addition to advice in the field of classic car parts, you are very welcome in the largest classic car showroom in Europe. With more than 400 classics in stock, there is always a Mercedes-Benz for you.