November 1 (All Saints Day) OPEN - Sunday November 7 EXTRA OPEN from 12:00 to 16:00
Mini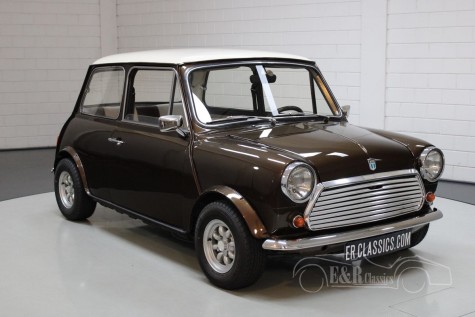 The Mini is a very popular brand among classic car enthusiasts and one of the most famous car models of all time. It is therefore not surprising that there are many providers who specialize in Mini classic car parts. Are you proud to own a Mini and are you looking for parts? Then let E&R Classics advise you.
We deal with the purchase and sale of classic cars, including the Mini, on a daily basis. Tinkering with these classic cars is also an important part of our organization and we have our own workshop with more than 20 mechanics. They know better than anyone what to look out for when ordering Mini parts and on this page we would like to introduce you to a number of reliable suppliers.
Where do you buy classic Mini parts?
Do you like to scour fairs looking for parts or do you prefer the easy way and order parts online in a web shop? The larger classic car parts specialists often have a web shop in addition to a shop where you can easily order Mini parts. This way you can easily and quickly order parts from home that are often delivered the next day.
Classic car parts for various Mini models
Although people often think of one model Mini classic car , several models have indeed been released. Therefore, when ordering parts online, always make sure that you are looking for parts for the right type of Mini. Some popular models are the Mini 850, Mini 1000, Mini Clubman or the Mini Cabriolet. All different models for which often different parts have to be ordered.
Various classic Mini parts
For Mini classic cars there are numerous parts available that you can often buy all online. Easily filter in a web shop on the type of Mini, the year and the category of parts. At the touch of a button you will get an overview of both new and used / second-hand Mini parts. Some parts you can order are engines, gearboxes, carburetors, rims, tires, brakes, exhausts, rubbers, gaskets and lighting.
Looking for a Mini classic car specialist?
E&R Classics works every day with all kinds of classic car parts and therefore knows better than anyone the importance of good, reliable specialists. On this page we introduce you to a number of specialists where you can order Mini parts (online). View a supplier of your choice now and feel free to contact us. E&R classics does not sell or deliver parts itself, these specialists will do that for you.
Always more than 400 classic cars in stock
In addition to advice in the field of parts, you can of course also contact us for buying and selling classic cars, including the beloved Mini. With more than 400 classic cars and youngtimers in stock, we can really call ourselves the largest classic car showroom in Europe.