Buy safely online | Delivery to your door | Trade-in possible
Renault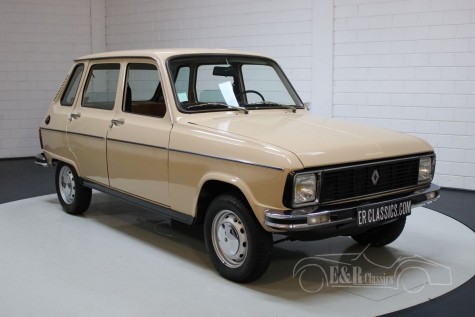 Are you looking for classic Renault parts? Then you have come to the right place at E&R Classics. Within our workshop, we are busy working on purchased and sold Renault classic cars on a daily basis. Our team of more than 20 mechanics can therefore tell you better than anyone else what to look out for when ordering classic car parts online. On this page we also introduce you to a number of reliable Renault classic car specialists where you can order parts online.
Buy classic Renault spares online
Where in the past you might go to a specialist or visit a fair/event, nowadays the sale of classic Renault car parts often takes place online. Renault specialists with a physical store almost always have a digital webshop. Here you can easily search, compare and order your Renault parts online. At the bottom of this page you will find a number of web shops where you can order parts for your Renault classic car online.
Various types of parts for Renault classics
Almost no classic Renault is the same. For example, a Renault 2CV will need different parts than a Renault 4CV. A number of frequently ordered parts are, for example, gaskets, brake discs, brake pads, water pump, radiator and more. You can also think of optical parts such as decorative strips, mirrors, bumpers and windows. When ordering parts, always keep in mind that there may be a difference in construction years. When you order parts online for your classic Renault, you can often easily filter by make, model and year.
New or used classic Renault car parts
Are you looking for new or second-hand /used parts for your classic car? Whatever you choose, it is important that you buy the parts from a reliable supplier. After all, new parts do not always have to be better than second-hand parts. If used parts are well maintained or overhauled, they can be of just as good quality or even better than new parts. In the web shops of the Renault specialists on this page you can order both new and used parts.
Get advice on classic car parts from E&R Classics
In order to maintain the classic car hobby as well as possible and to enjoy your beloved Renault as much as possible, we would like to share our knowledge with you. Below we introduce you to a number of Renault specialists that we can recommend to you. Feel free to click on one of the links and order your parts in the webshop of the specialist. E&R classics does not sell or deliver parts itself, these specialists will do that for you.
E&R Classics is your specialist in the field of Renault classic cars
In addition to advice in the field of classic car parts, you can of course also contact E&R Classics for the purchase of a beautiful classic car. With more than 400 classics in stock, you will always find a Renault that suits you!