June 8 (Corpus Christi) SHOWROOM OPEN
Jaguar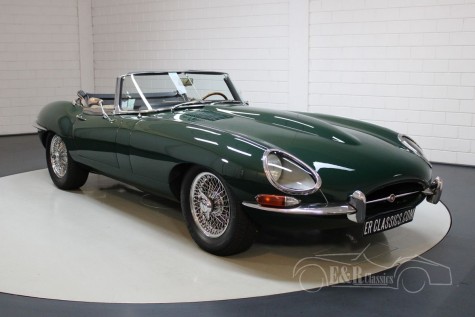 Are you the proud owner of a classic Jaguar or do you professionally work on Jaguars? Then you are probably regularly looking for classic car parts. E&R Classics has one of the largest classic car showrooms in Europe and specializes in the purchase and sale of Jaguar and other classics. With our own workshop with more than 20 mechanics, we at E&R Classics are also working on classic cars on a daily basis. We know better than anyone what to look out for when buying Jaguar classic car parts. On this page we explain which parts are available, how you can best order them and introduce you to a number of reliable suppliers.
Buy spares for various classic Jaguars
As you no doubt know, classic Jaguars are very popular among enthusiasts. For many, a Jaguar is the ultimate classic car and there are several popular models. How about the Jaguar MK2, Jaguar XK120, Jaguar XJR and the Jaguar XK? But perhaps the most wanted Jaguar is the Jaguar E-Type. Some say it is even the most beautiful car ever made.
Given the diversity of the number of models, you can also imagine that there is a multitude of parts available. On this page we introduce you to a number of specialists and suppliers of Jaguar parts.
Buy your classic Jaguar spare parts online
Where in the past the sale of classic Jaguar car parts often took place at fairs /events and at specialists themselves, in recent years we have seen a significant shift to ordering classic car parts online. The specialists who previously only offered physical products now have a webshop where you can easily order new and second-hand / used Jaguar parts online.
Online you can easily compare and assess various providers on price-quality ratio. All you have to do is filter on the type of classic Jaguar, the year and the rest will happen automatically. Ordering classic Jaguar spares has never been easier.
Various classic Jaguar car parts
Certain classic Jaguar car parts are only suitable for, for example, an E-Type and do not fit on a Jaguar XJR. Be sure to research online before purchasing parts. Popular parts are parts for brakes, lighting, moldings, bumpers, exhaust, drive shafts, steering and so on. But what about engines and gearboxes. Online you will find completely overhauled engines and gearboxes for various Jaguar classic cars.
We are happy to share our Jaguar knowledge with you
In order to maintain the classic car hobby and as accessible as possible for every enthusiast, we are happy to share our knowledge with you. Below you will find a number of reliable Jaguar specialists that we can recommend to you. Feel free to click on one of the links below and contact the specialist.
E&R classics does not sell or deliver parts itself, these specialists will do that for you.
E&R Classics is your specialist on classic Jaguar cars and young timers
E&R Classics always has more than 400 classic cars in stock in the largest classic car showroom in Europe. With a great diversity of Jaguars, you will always find one that suits you.