June 8 (Corpus Christi) SHOWROOM OPEN
Rolls Royce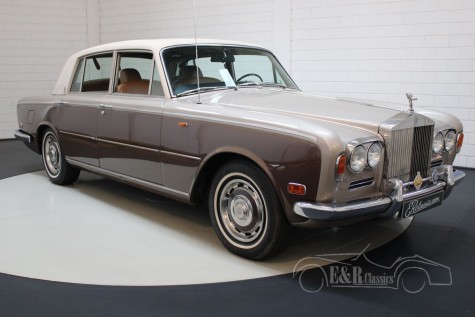 Are you the proud owner of a classic Rolls Royce and are you looking for parts? Get advice from E&R Classics, the number 1 classic car specialist in Europe. With more than 400 classic cars in stock and a team of more than 20 mechanics, we know better than anyone what to look out for when buying Rolls Royce parts. On this page we would like to introduce you to a number of Rolls Royce specialists where you can order parts online.
Advice on classic Rolls Royce spares from various specialists
Rolls Royce has been one of the most prestigious car brands worldwide for decades and a brand that stands for quality. You can imagine how important it is to work with the right parts on Rolls Royce classic cars. There are various specialists worldwide who are engaged in the sale of Rolls Royce classic cars. Because of this large offer, it is important to know which specialists are reliable and supply the right quality parts. The specialists we introduce you to on this page are reliable suppliers of Rolls Royce parts.
Buy Rolls Royce parts quickly and easily online
When you need parts for your classic car, you often want them as quickly as possible. After all, you want to be able to continue repairing your classic Rolls Royce as quickly as possible. The big advantage of ordering Rolls Royce parts online is that they are often delivered the next day. You can easily search by Rolls Royce make, model, year and category of the part. You then decide whether you choose new or second-hand / used parts and whether you want them delivered to your home. It couldn't be easier, can it?
A number of well-known Rolls Royce vintage cars are the Rolls Royce Silver Shadow, Silver Cloud, Silver Dawn, Silver Wraith, Corniche and of course the well-known Rolls Royce Phantom.
Various classic spare Rolls Royce parts
What is important to keep in mind when ordering classic Rolls Royce parts is that you have to keep in mind that there are different parts available for each model. In the web shops of the specialists below you can easily filter so that you get exactly the parts that are suitable for your Rolls Royce classic car. Frequently ordered parts are brakes, lighting, moldings, bumpers, exhaust systems, drive shafts, steering and so on. But what about engines and gearboxes. Online you will find completely overhauled engines and gearboxes for various Rolls Royce classic cars.
We are happy to share our knowledge of Rolls Royce parts with you
In order to maintain the classic car hobby as well as possible and as accessible as possible for every enthusiast, we are happy to share our knowledge about parts with you. Below we introduce you to a number of Rolls Royce specialists that we can recommend to you. When you click on one of the links, you will be taken to the web shop of the relevant specialist. You can order parts online quickly and easily here.
E&R classics does not sell or deliver parts itself, these specialists will do that for you.
E&R Classics is your specialist in the field of classic Rolls Royce cars and youngtimers
E&R Classics always has more than 400 classic cars in stock in the largest classic car showroom in Europe. With a very diverse range, there is always a classic car that suits you!