Sunday October 1 CARS & COFFEE and SHOWROOM EXTRA OPEN (12:00-16:00) - October 3 (German Unity Day) SHOWROOM OPEN
BMW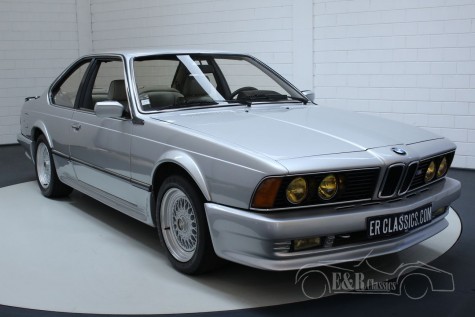 Do you own a BMW classic car and do you like to tinker with your classic car yourself? Then you will undoubtedly need parts from time to time. At E&R Classics you have come to the right place when it comes to BMW classic car parts. In addition to the purchase and sale of old-timers and young-timers, we have a workshop where we are busy every day with all kinds of parts to deliver our cars in top condition.
Buy BMW classic car parts (online)
With a new BMW you can go straight to the garage to have work carried out, but with a BMW of 50 years that often becomes a lot more difficult. Many classic car enthusiasts also choose to tinker with their classic BMW themselves. This does mean that you have to get your parts from somewhere. Finding BMW classic car parts can be quite a job, but fortunately there are now many online shops that make life a lot easier. The BMW specialists that we introduce to you here are reliable suppliers of BMW parts.
Classic BMW parts specialists
What makes a reliable supplier of BMW parts? Thanks to the many years of experience that E&R Classics has gained, we know exactly what to look out for when ordering parts. For years we have been purchasing parts for many different brands of classic cars from regular suppliers. Whether it concerns new or second-hand /used classic car parts. We are happy to share our knowledge with you!
Parts for various classic BMW
Whatever BMW you have, a BMW E9, E20, E30, Isetta, BMW M3 or M6, there are other parts available for every type. It is all the more important to buy your spare parts from a reliable supplier. At E&R Classics we do everything we can to maintain the classic car hobby. That is why we have listed a number of BMW specialists who sell parts online. View a supplier of your choice now and feel free to contact us.
E&R classics does not sell or deliver parts itself, these specialists will do that for you.
Always more than 400 classic cars in stock
In addition to advice in the field of BMW classic car parts, you are very welcome in the largest classic car showroom in Europe. With more than 400 classics in stock, there is always something for you.