Buy safely online | Delivery to your door | Trade-in possible
Audi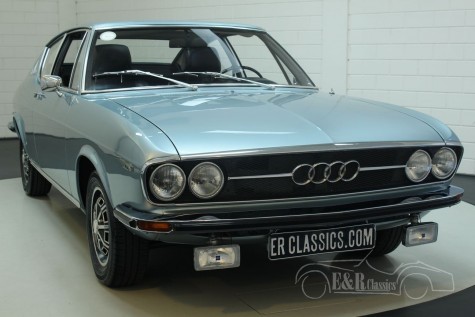 If you like to tinker with an Audi classic car, you have undoubtedly needed parts. Whether you are looking for parts for your motorcycle or for example brake discs, it is very important that you buy the right quality parts. After all, it is often a valuable asset that you would like to take on the road safely.
Suppliers of classic Audi parts
At E&R Classics we know better than anyone how important it is to obtain the right parts for your classic Audi. For years we have been purchasing parts for many different brands of classic cars from regular suppliers. We are happy to share our many years of experience with you so that you buy at the right classic car parts specialist.
Buy classic car parts from Audi online
Where you used to often go to fairs or to classic car specialists, nowadays the sale of classic car parts is often done online. There are numerous Audi web shops available that offer second-hand or new classic car parts of all brands. It may just be that you lose the overview due to this great diversity of providers. The suppliers that we introduce to you here on this page are reliable suppliers of Audi classic car parts.
Audi parts for various Audi models
Whether you have an Audi 100, Audi 80, Audi Quattro or Audi DKW, many parts differ per type. It is all the more important to buy your parts from the right Audi specialist. Via the suppliers below you will find both new and used / second-hand classic car parts.
Let E&R Classics advise you
We are happy to contribute to maintaining the classic car hobby. On this page you will find a number of Audi classic spare parts specialists that we recommend. Feel free to contact one of the suppliers by clicking on one of the links.
E&R classics does not sell or deliver parts itself, these specialists will do that for you.
E&R Classics is your specialist in the field of classic and youngtimer cars
At E&R you will always find more than 400 classic cars of all kinds in the largest classic car showroom in Europe.