Buy safely online | Delivery to your door | Trade-in possible
Ferrari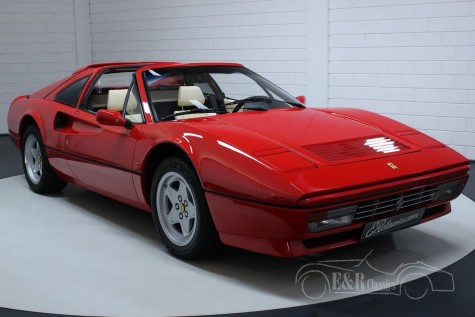 Are you the proud owner of a Ferrari classic car or do you work professionally on Ferraris, then you will undoubtedly need parts from time to time. With an Italian sports car such as a Ferrari, it is very important that you use the right oldtimer parts. Especially when you reach higher speeds, it is important that you have high quality parts.
At E&R Classics we regularly buy and sell newer Ferraris and Ferrari oldtimers. We know better than anyone how important it is to use the right parts. Every day our team of mechanics is busy preparing old-timers and young-timers for sale. Quality is our top priority and that is why we are happy to share our expertise with you.
Ferrari oldtimer parts are the basis of good maintenance
Just like a new Ferrari, a Ferrari classic car needs maintenance. At E&R Classics, we work daily on (Ferrari) classic cars and have been purchasing from our regular, reliable suppliers for years. In order to maintain the oldtimer hobby as well as possible, we are happy to share our knowledge and contacts with you so that you can get the best quality parts.
Buy Ferrari classic car parts
Where you are less likely to find Ferrari parts at a trade fair or event, you can easily find them online. Nowadays there are numerous web shops specialized in Italian classic car parts, including Ferrari. You can easily search, compare and order parts online. Since you have no physical contact with the specialist, it is all the more important that you find a reliable supplier. On this page we introduce you to a number of reliable suppliers of Ferrari oldtimer parts.
Parts for different Ferrari models
Every type of Ferrari is different, and therefore often different parts are needed. Some common Ferrari oldtimers are the Ferrari Dino, Testarossa, Daytona, Berlinetta, 328, 308 and for example the Ferrari 348. Parts you need can vary from brake discs, brake pads and brake lines to complete engines and gearboxes. Used / second-hand parts or new, you will find them all on the internet.
We are happy to share our Ferrari oldtimer knowledge with you
We would like to share our knowledge with you so that you can enjoy your Ferrari oldtimer as much as possible. Below we have listed a number of Ferrari specialists who can help you find the right (oldtimer) parts. Feel free to click on one of the links and visit a website of your choice. E&R Classics does not sell or supply parts itself, these specialists will do that for you.
E&R Classics is your classic car and young timer specialist
With always more than 400 classic cars in stock, there is undoubtedly a car for you. Take a quick look in our digital showroom by clicking on one of the buttons.