Buy safely online | Delivery to your door | Trade-in possible
Alfa Romeo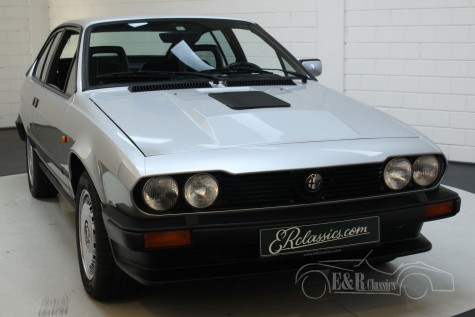 Whether you are a private individual, garage owner or restorer, when you tinker with Alfa Romeo classic cars, you will undoubtedly need parts. At E&R Classics we know better than anyone how important it is to work with the right Alfa Romeo classic parts. That is why we are happy to share our expertise of classic car parts with you.
Classic car parts from reliable suppliers
Just like a young timer, a classic car also needs attention and maintenance. At E&R Classics, we work with a whole team on vintage cars every day and have been purchasing classic car parts from our regular suppliers for years.
Where you previously visited a classic car fair, nowadays the sale of classic car parts often takes place online. Because you are not physically present during the purchase, it is very important that you are dealing with a reliable party. The suppliers that we introduce to you on this page are reliable suppliers of classic car parts.
Alfa Romeo classic car parts
No Alfa Romeo is the same, and therefore many parts are only suitable for certain models. For example, parts of an Alfa Romeo Giulia will be less suitable for an Alfa Romeo Spider. And parts of an Alfa Romeo GTV will be difficult for an Alfa Romeo Bertone to work.
Frequently wanted parts for Alfa Romeo classic car models include brakes, lighting, moldings, bumpers, engine and gearbox, exhaust, drive shafts, steering and so on. Since classic Alfa Romeos are also used on the track or during rallies, racing parts are often wanted.
We are happy to share our classic car knowledge with you
We are happy to share our knowledge with you to maintain the classic car hobby and to keep it accessible to everyone. Below, you will find a number of Alfa Romeo parts specialists that we can recommend to you. Feel free to click on one of the links below and contact the specialist. E&R classics does not sell or deliver parts itself, these specialists will do that for you.
E&R Classics is your specialist for classic cars and youngtimers
E&R Classics always has more than 400 classic cars in stock in the largest classic car showroom in Europe. Click on one of the buttons below for more information.