Sunday October 1 CARS & COFFEE and SHOWROOM EXTRA OPEN (12:00-16:00) - October 3 (German Unity Day) SHOWROOM OPEN
Porsche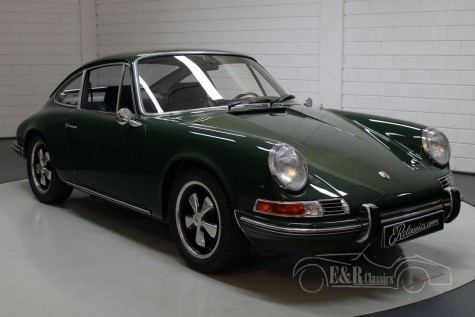 Classic Porsche parts, you have undoubtedly needed them while tinkering with your Porsche. Whether you do this privately or in a professional garage, the importance of using the right parts is crucial for the condition of your Porsche. A German sports car like Porsche can reach high speeds and that is precisely why it is extra important that you use the right quality parts. On this page we would like to introduce you to a number of Porsche specialists where you can order new and used/second-hand parts online.
ER Classics, your specialist in classic Porsche spares
At E&R Classics we know better than anyone how important it is to work with the right quality parts. Every year, we buy and sell numerous Porsche classic cars and youngtimer cars that are technically checked and adjusted by our workshop. You can imagine how many Porsche parts are ordered by our workshop. The Porsche specialists that we present on this page have a webshop where you can easily order parts online.
Classic Porsche spares for various models
A brand such as Porsche is known worldwide and has many iconic models. All these different models often also require specific parts. The simple thing about ordering classic Porsche parts online is that you can easily filter by model, year and type of part. You will then receive an overview of all available parts that you can order easily and quickly from home. A number of models for which many parts are ordered are the Porsche 911, 356, 911 Cabriolet, 968, 912, Speedster and the Porsche 944. Or how about the immensely popular young timer Porsche Boxster. You can order parts for practically all these models via the Porsche specialists on this page.
Some of the most frequently ordered parts for classic Porsche are: gaskets, lighting, pipes, brake discs, brake pads, water pump, radiator and more. You can also think of optical parts such as Fuchs rims, decorative strips, mirrors, bumpers and windows.
Looking for a specialist for classic Porsche parts?
Are you looking for parts for your classic Porsche? Then let ER Classics, the number 1 classic car dealer in Europe, advise you. With more than 400 classic cars in stock, including Porsche, we can advise you like no other in the field of parts.
On this page we introduce you to a number of Porsche specialists where you can order both new and second-hand / used parts (online). View a supplier of your choice now and feel free to contact. E&R classics does not sell or deliver parts itself, these specialists will do that for you.
Always more than 400 classic cars in stock
In addition to advice on classic Porsche spares, you can also contact us for buying and selling classic cars. With more than 400 classic cars and youngtimer cars in stock, we can certainly call ourselves the largest classic car showroom in Europe.