Sunday October 1 CARS & COFFEE and SHOWROOM EXTRA OPEN (12:00-16:00) - October 3 (German Unity Day) SHOWROOM OPEN
Citroën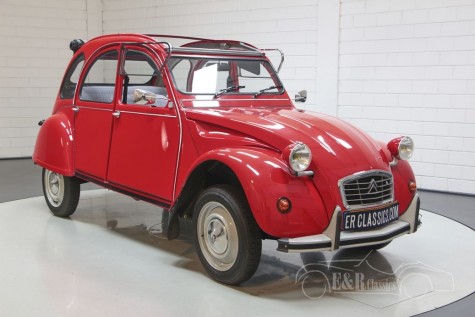 Citroën has always been a very popular brand among classic car enthusiasts. That is also the reason that there are many specialists who focus entirely on classic Citroën parts. To ensure that you find the right parts specialist, we are happy to help you by sharing our expertise. E&R Classics is engaged in the daily purchase and sale of (Citroën) oldtimers. Our workshop plays an important role in this, which is why we can advise you like no other in the field of parts.
Diverse range of Citroën classic car parts
The range of parts for Citroën classics is very diverse. Consider, for example, drive shafts, accessories, lighting, tires, upholstery, filters, gaskets, gears or even complete gearboxes. Given the many different models and history of Citroën, it goes without saying that many parts are available.
Classic Citroën parts specialists
How do you determine a reliable supplier of Citroën parts? Thanks to the many years of experience that E&R Classics has gained, we know exactly what to look out for when ordering parts, whether it is second-hand /used classic car parts or new. On this page we would like to introduce you to a number of reliable parts suppliers.
Various Citroën models with accompanying parts
Among the Citroën enthusiasts, there are a number of models that stand out. Of course the Citroën 2CV and DS are very popular. But what about models such as the HY, Lomax 223 and Lomax 224, the CX, ID and the popular Citroën Mehari. All different models that often require specific parts.
Buy your classic Citroën parts online
Do you enjoy working on your classic Citroën? Then you are not alone. In addition to driving, tinkering with a classic car is often just as much fun during the hobby. So there is a good chance that you are regularly looking for parts. Finding classic car parts is becoming easier nowadays with the amount of web shops. Where you used to have to browse fairs, you can now easily order parts online from home and have them delivered to your home.
Looking for a Citroën parts specialist?
On this page we would like to introduce you to a number of reliable Citroën parts specialists. In addition to a physical store, these specialists usually also have a webshop where you can easily order parts online. View a specialist of your choice now and feel free to contact us.
E&R classics does not sell or deliver parts itself, these specialists will do that for you.
Classic Citroën cars for sale at E&R Classics
In addition to advice on classic car parts, you can also contact us for the purchase of various Citroën classic cars and other classics. With more than 400 old-timers and young-timers in stock, there is always a car that suits you.