Buy safely online | Delivery to your door | Trade-in possible
MG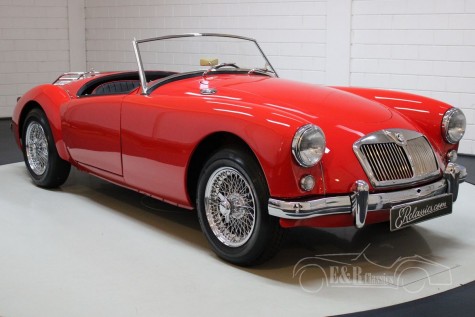 MG is one of the most popular classic car brands and it is therefore not surprising that there are a lot of parts available for it. There are numerous providers and specialists where you can have your MG classic car serviced and where you can order parts. That is of course very nice, but we can also imagine that you have trouble finding the right parts supplier. In order to maintain the classic car hobby as well as possible and to help you find the right MG classic car parts, we would like to share the knowledge and experience that we have built up in the past.
E&R Classics: your specialist in the field of classic MG spares
In addition to the purchase and sale of various vintage cars, including MG, E&R Classics has its own workshop with more than 20 mechanics. Every day they work hard to deliver vintage cars to their new owner in top condition. Our mechanics know better than anyone what to look out for when buying parts for your MG classic car. On this page we would like to introduce you to a number of reliable MG specialists. You can easily order new and used / second-hand classic car parts here.
Buy parts online for your classic MG
Where in the past you got in your car to drive to an MG specialist for parts, you can now order them easily and quickly online. The parts specialists that we introduce to you on this page all have a web shop where you can easily order MG parts. Click on one of the links, filter on your model and year and order the parts you are looking for. It couldn't be easier!
Parts for different MG models
The MG brand is incredibly popular among classic car enthusiasts. There are therefore different models that all need different parts. Some of the most popular models are the MG TD, MG Midget, MGA, MGB and MGC. And what about the young timer MGF?
Frequently ordered parts for MG vintage cars are: rubbers, gaskets, batteries, cables, filters, shock absorbers, brakes, brake pads, brake discs, starter motor, spark plugs, exhausts, gearboxes and engines. Also optical parts such as luggage racks, mirrors, wire wheels, decorative strips, logos and lighting are often ordered by MG enthusiasts.
We are happy to share our classic MG knowledge with you
We would like to share our knowledge with you to keep the classic car hobby alive and accessible to everyone. Below you will find a number of reliable providers of parts for your MG classic car . Feel free to click on one of the links below and contact the specialist. E&R classics does not sell or deliver parts itself, these specialists will do that for you.
E&R Classics is your specialist in the field of MG classic and young-timer cars
E&R Classics always has more than 400 classic cars in stock in the largest classic car showroom in Europe. Are you looking for a MG classic car? Then there is a good chance that your dream car is in our showroom.