Sunday October 1 CARS & COFFEE and SHOWROOM EXTRA OPEN (12:00-16:00) - October 3 (German Unity Day) SHOWROOM OPEN
Go to inventory
Sell my car
Porsche 912
Porsche 912
The Porsche 912 is an (entry-level) sports car produced by Porsche between 1965 and 1969. The 912 is an agile and compact 4-seat vehicle and delivers 90 SAE horsepower at 5800rpm.
After the discontinuation of the 356, Porsche officially started production of the 912 coupe on April 5, 1965. Styling, quality, performance, reliability and price made the 912 a very attractive car for both new and old Porsche enthusiasts. The 912 sold even better than the 911 during its early years of production. Porsche produced nearly 30,000 912 coupes and approximately 2,500 912 Targa bodystyle vehicles during its 5-year production run. Production of the Targa (complete with removable roof and heavy clear plastic rear windows) began in December 1966 as the 1967 model. In January 1968 Porsche also made a Targa 'Version II' with fixed glass rear window. In Europe, Porsche 912S cars were also used as police cars.
After the 1969 model year, Porsche executives decided that continuing 912 production would not be profitable due to both internal and external factors. Between April 1965 and July 1969, Porsche had built more than 32,000 units of the 912. For the 1970 model year, the 912 was replaced by the 4-cylinder 914 as Porsche's entry-level model.
After 6 years of absence in North America, the 912 was re-introduced as the 912E (model year 1976), with the same "G-Series" bodywork as the 912S. The 912E was powered by an 86hp 2.0L Volkswagen air-cooled engine, refined with a new Bosch L-Jetronic injection system. During the production run (May 1975 - July 1976), Porsche manufactured nearly 2,100 units of the 912E, aimed at the US market.
Buy a Porsche 912 classic at E&R Classics
Finding a Porsche that's right for you is priority number one. The search for your dream car often starts online. ERClasics has therefore done everything they can to give you as complete a picture as possible of the cars. for example, every car on our website is provided with a photo report, 360-degree images, and a video. In addition, there is also background information for each car. Would you rather view the car physically? Then you can visit our showroom in Waalwijk, the Netherlands. Check our website for opening times.
High quality Porsche 912 classic cars at E&R Classics
All classic cars offered by us, including the Porsche 912 are checked against a list with 125 points. This assessment is performed by one of our own technicians. Delivering classic cars that are in perfect condition is of great importance to ERClassics. The classic cars offered by us are therefore of high quality. If you would like more information about maintenance on a classic car or if you are wondering what mechanics in classic car workshops do, click here.
Trade in or sell your Porsche 912 classic car
At ER Classics you can of course buy an Porsche 912, but we also offer the option to sell your current classic car or to trade it in. If you would like more information about selling or trading in your classic car, please contact one of our classic car experts. You can of course also visit our showroom to discuss the possibilities.
Maintenance on a classic car
Of course every car needs maintenance, and it can sometimes happen that something needs to be repaired. It is no different for a classic car. Because you like to keep your classic car in top condition, a good garage is important. Any garage can provide you with maintenance, but sometimes you just need that extra bit of specialism, then you can choose to take your classic car to a classic car workshop where they focus on 1 brand or type of classic car. The mechanics often work with the same classic cars and have thus specialized in maintenance or repairs on those specific classic cars.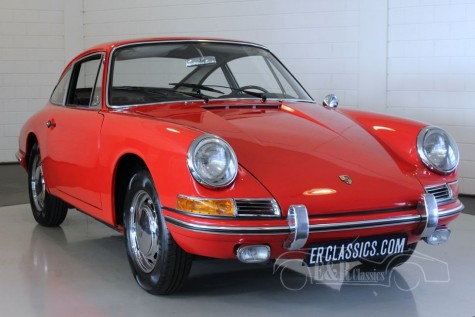 ER Classics has the right classic Porsche 912 for you!
What are the advantages of buying a Porsche 912 classic from ER Classics?
- Large range of Porsche classics for sale
- All classic cars have been thoroughly checked by our own workshop
- Own workshop with 20 mechanics
- Registration and inspections
-Worldwide transport to the door
- High quality and service
- Trade-in options
- Customers rate us with a 8.9
Europe's number 1 online classic car dealer
If you are looking for a beautiful new Porsche 912, you will be assisted by one of our own classic cars experts. ERclassics has specialized in the purchase and sale of classic cars since 2008 and can rightly call itself Europe's number 1 online classic car dealer.