Sunday October 1 CARS & COFFEE and SHOWROOM EXTRA OPEN (12:00-16:00) - October 3 (German Unity Day) SHOWROOM OPEN
Go to inventory
Sell my car
Porsche 356
Porsche 356 classic
The Porsche 356 was the company's first production car. It was a light and agile 2-door sports car with rear-wheel drive, available in hardtop coupe and open configurations. Design innovations continued throughout the first year to contribute to motorsport success and popularity. Production started in 1948 in Gmünd, Austria, where about fifty cars were built. In 1950 the factory was moved to Zuffenhausen, Germany. General production of the 356 lasted until April 1965, when it was replaced by the 911.
Prior to World War II, Porsche built three Type 64 cars for a 1939 Berlin to Rome race that was later cancelled. In 1948 the mid-engine tube chassis 356 prototype called "No 1" was completed. This led to some discussion about the "first" Porsche car, but the 356 became Porsche's first model.
The 356 was designed by Ferdinand "Ferry" Porsche. Like the Volkswagen Beetle, the 356 was a four-cylinder, air-cooled, rear-wheel drive car. Although the body of the 356 was an original design by Porsche employee Erwin Komenda, the mechanics (including engine, suspension and chassis) were derived from the Volkswagen. The first 356 was put on the road in Austria on June 8, 1948, and used many Volkswagen parts. Shortly after, the 356 was redesigned and refined to improve performance. In the late 1950s, fewer and fewer parts were shared between Volkswagen and Porsche. The early 356 bodies were produced in Gmünd and were handcrafted from aluminum. Later in 1950, production was moved to Zuffenhausen, Germany, where the body was made of steel.
The first 356 Porsches were mostly sold in Austria and Germany. It took two years from the first prototype in 1948 that the first 50 cars were produced. By the early 1950s, the 356 had gained fame among enthusiasts on both sides of the Atlantic for its aerodynamics, handling, and superb build quality. It was customary for owners to race the car as well as drive it on the street. The success of the racing and road car drove over 10,000 orders in 1964. By the time the 356 ended production in 1965, approximately 76,000 had been produced.
Buy a Porsche 356 classic at E&R Classics
Finding an Porsche that's right for you is priority number one. The search for your dream car often starts online. ERClassics has done everything it can to give you an idea of the cars, so every car on our own site is provided with a photo report, 360 degrees images, a video and background information about the car can be found. Would you rather view the car physically? Then you can visit our showroom in Waalwijk, the Netherlands. Check our website for opening times.
High quality Porsche 356 classic cars at E&R Classics
All classic cars offered by us, including the Porsche 356 are checked against a list with 125 points. This assessment is performed by one of our own technicians. Delivering classic cars that are in perfect condition is of great importance to ERClassics. The classic cars offered by us are therefore of high quality. If you would like more information about maintenance on a classic car or if you are wondering what mechanics in classic car workshops do, click here.
Trade in or sell your Porsche 356 classic car
At ER Classics you can of course buy an Porsche 356, but we also offer the option to sell your current classic car or to trade it in. If you would like more information about selling or trading in your classic car, please contact one of our classic car experts. You can of course also visit our showroom to discuss the possibilities.
Maintenance on a classic car
Of course every car needs maintenance, and it can sometimes happen that something needs to be repaired. It is no different for a classic car. Because you like to keep your classic car in top condition, a good garage is important. Any garage can provide you with maintenance, but sometimes you just need that extra bit of specialism, then you can choose to take your classic car to a classic car workshop where they focus on 1 brand or type of classic car. The mechanics often work with the same classic cars and have thus specialized in maintenance or repairs on those specific classic cars.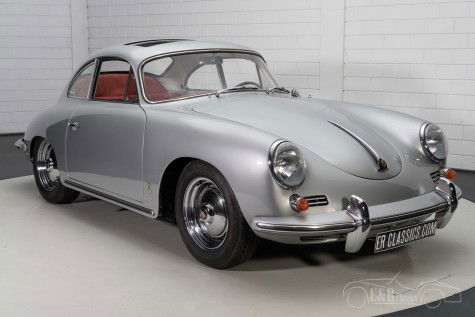 ER Classics has the right classic Porsche 356 for you!
What are the advantages of buying a Porsche 356 classic from ER Classics?
- Large range of Porsche classics for sale
- All classic cars have been thoroughly checked by our own workshop
- Own workshop with 20 mechanics
- Registration and inspections
-Worldwide transport to the door
- High quality and service
- Trade-in options
- Customers rate us with a 8.9
Europe's number 1 online classic car dealer
If you are looking for a beautiful new Porsche 356, you will be assisted by one of our own classic cars experts. ERclassics has specialized in the purchase and sale of classic cars since 2008 and can rightly call itself Europe's number 1 online classic car dealer.