Buy safely online | Delivery to your door | Trade-in possible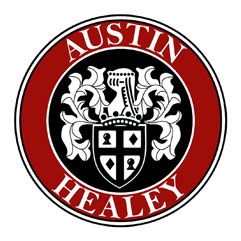 1957 Austin-Healey 100-6
The 100-6, launched in 1956 to replace the 100-4, quickly got a bad reputation for being slower than its predecessor despite its new 6 cylinder engine. Austin-Healey quickly made steps to rectify this shortcoming, and in 1957 launched a re-designed, 6 inlet-port head design. This release would later be known as the 6-Port Head, and was sold as a factory option for owners of the 1956 100-6. Austin-Healey started labeling the updated 1957 Austin-Healey 100-6 with the name Mille Miglia after the famous Italian auto race in Brescia.
Looking to purchase a Classic Austin-Healey?
Today the bad press has long been forgotten, as the Austin-Healey 100-6 has made a comeback in the classic car collectors market. Less mainstream than MG, more glamorous than Triumph, and not as expensive as Jaguar, the 1957 Austin-Healey 100-6 is the epitome of British style and elegance. When purchasing a 100-6, be sure to consider the following tips. First, thoroughly inspect the car for rust, whether youre buying a restoration project or buying an already restored car. Also have a 3rd party inspection, particularly if this is a running model. Youll want to ensure engine components are working properly. This Healey was offered with a two-tone paint option; keep this in mind. An original with two-tone paint can have a higher value. These are just some of the tips that ER Classics Waalwijk can assist you with when searching for a 1957 Austin-Healey 100-6.