Buy safely online | Delivery to your door | Trade-in possible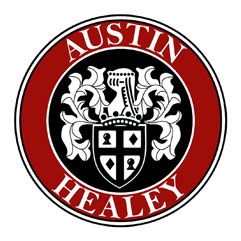 1956 Austin-Healey 100-6
In 1956, the 100-4 was replaced with the 100-6. The 1956 Austin-Healey 100-6 offered a longer wheelbase, had more room in the cabin as well as 2+2 seating. Minor changes were also made to the bumpers and front. It also had a new fixed-position windshield. To save on costs and to keep the Austin-Healey as an entry-level car, disc wheels were now standard, and there was no overdrive. Wire wheels and overdrive were available as add-ons. With 102 horsepower and a powerful 2.6 liter engine, the 1956 Austin-Healey 100-6 was more than 13% more powerful than the 100-4. The 100-6 was nearly 300 pounds heavier so while it looked good on paper, it was actually slower than the 100-4. This would be corrected in 1957, when a new head with raised compression would deliver 117 horsepower.
Looking to purchase an Austin-Healey?
Approx 7053 of the early 100-6 Austin-Healey models were produced between 1956 and 1957, all considered BN4 models. If youre thinking about buying a 1956 Austin-Healey 100-6, youve come to the right place. A classic car dealership based in Waalwijk, Holland, the team at ER Classics can not only help you locate the Austin-Healey 100-6 you desire, but can provide you with buyers tips! First, while the 1956 100-6 got a lot of bad press during its time, its shortcomings are easily overcome today. Some new owners prefer to keep the original head arrangement, because it is an original part and doesnt have any bearing on the beauty of the Austin-Healey 100-6. On the other hand, some prefer to upgrade to the new head arrangement that was debuted in 1957. If youre considering the purchase of a 1956 100-6, you may want to ask the sellers if this upgrade has been done. The 1956 Austin-Healey 100-6 had some very significant contributions to the Healeys over the years. Not only is it the car that replaced the AH 100-4, but it also paved the way for the later 3000 models.