June 8 (Corpus Christi) SHOWROOM OPEN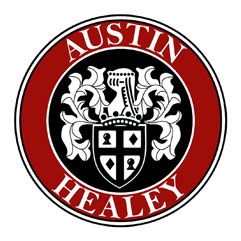 1954 Austin-Healey 100-4
The Healey Hundred as it is often called, was first displayed at the London Motor Show in 1952. The 1954 Austin-Healey 100-4 was designed to fill the void in the British sports car market found between the entry-level MG and the expensive Jaguar XK120 and XK140 models. The 100-4 had the best balance of all the Big Healeys and the 4-cylinder was actually faster than the 6-cylinder that replaced it. While the 100-6 makes a great touring car, the 100-4 is a true sports car. The 100-4 was named the 100 because it could reach the 100mph barrier.
Looking to purchase an Austin-Healey?
ER Classics have put together the following tips to assist you as you search for the perfect 1954 Austin-Healey 100-4. The 100-4s engine is an unstressed truck unit. It should easily give you 200.000 miles before any serious attention is needed. The 100-4 often leaks oil, but this can be reduced with proper maintenance. If youre looking at a model that has a rebuilt engine, ask if the crankshafts scroll-type rear main oil seal has been replaced with a better lipped version. This will save you a lot of trouble in the future. Lastly, almost 90% of the Big Healeys were built for export to the USA. Many have been restored with varying degrees of success. It is always best to have a 3rd party inspect the car youre considering. If you can find a 100-4 that has documentation, maintenance and restoration, that is definitely a plus. When youre ready to explore the 1954 Austin-Healey 100-4 models available to you, the team at ER Classics welcomes you to tour their online classic car inventory.