Sunday October 1 CARS & COFFEE and SHOWROOM EXTRA OPEN (12:00-16:00) - October 3 (German Unity Day) SHOWROOM OPEN
Rob Adriaansen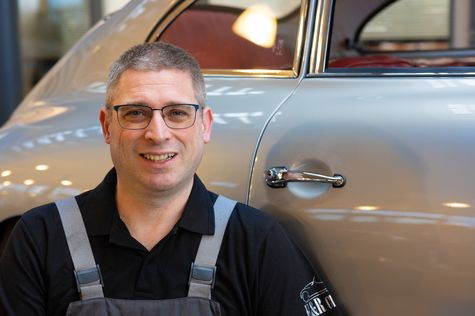 My name is Rob Adriaansen, all-round mechanic at ERclassics. I followed the Motor Vehicles course and after my training I started working as a mechanic at an all-round car garage. After working as a mechanic for a while, I started studying flight technology and I took care of the maintenance for Pilatus PC-7 aircraft. These aircrafts are used by the Royal Netherlands Air Force as training aircraft. After that I worked for a while on gas turbines of commercial aircraft for various airlines. After cars and airplanes I thought it was time for boats and I worked for years on marine engines in the pleasure boating industry. This varied from work on a small outboard motor to large 13.0 liter engines of super yachts.

After my work in pleasure boating, I made the choice for myself to work in the classic car industry. I used to restore an MG MGA with a friend and have been crazy about vintage cars ever since. It has always stuck in the back of my mind that I wanted to take the next step to work with vintage cars. Now that I work at E&R Classics, I have finally been able to turn my passion into my job. I don't regret taking this step for a second!

What was your first car and what memories do you have of it?
My very first car was a 1982 Mitsubishi Colt. This was my daily car, so I immediately learned to tinker with cars and classic cars. I never went to the garage, but always tried to do the maintenance and repairs myself. Partly because of this, my passion for classic cars and tinkering with classic cars arose.

What is your dream car?
My absolute dream car is a Jaguar E-Type Series 3 V12 in British Racing Green. Besides the looks of this British Classic Car, I absolutely love the V12. I love how smooth this engine runs. You could almost leave a coin upright on the engine.

Suppose you had to give someone a lift. Who would that be and why?
If I could give someone a lift it would be the Dutch singer Frans Bauer. Not so much because I like his music, but because I think he has a great personality. He is always cheerful and in for a laugh. I also know that he absolutely loves BMW. I would love a ride with Frans Bauer in a classic BMW.

What is your best car related memory?
My best car-related memory is a trip through the Netherlands in a Subaru Mini Jumbo. The Subaru Mini Jumbo was already a special appearance at the time and we attracted a lot of attention along the way. The faithful 2-cylinder engine gave me a great holiday that I will never forget.

What makes a working day at E&R Classics so much fun for you?
What I love about working at ERclassics is the diversity in my work. No day is the same and I love to improvise and tinker until I find the problem. There's nothing like the feeling of a car running like new again when it's delivered to a satisfied customer.