Buy safely online | Delivery to your door | Trade-in possible
Kai de Ruijter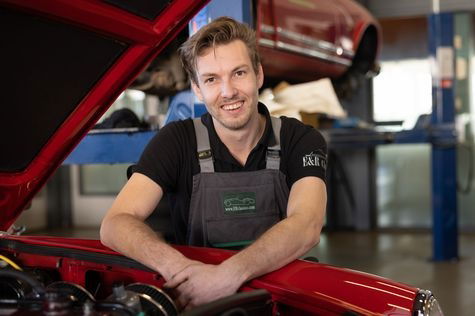 My name is Kai de Ruijter, I am an all-round mechanic and technical specialist at E&R Classics. I also take care of foreign inspections and I am responsible for purchasing control. If a customer wants to trade in or sell a classic car, I check whether the classic meets our standards before we buy the car.

I have completed the training first mechanic / technical specialist. My first job was as a mechanic at a garage specialized in the restoration of Italian vintage cars. Here my love for classic cars only grew and I then took the step to work at E&R Classics. I have been working on vintage cars for about 10 years now.

What was your first car and what memories do you have of it?
My very first car was an Alfa Romeo 75. I absolutely loved Italian classics and driving this Alfa Romeo was a dream come true. The first day that I started driving this classic, I became a bit overconfident (I wanted to impress my girlfriend) with the result that during the first ride I also broke my rear light when parking. This was a great car that I still often think about.

My dream car is a Ferrari 250 GTO
My dream car is a Ferrari 250 GTO. I am a big fan of Italian classics and in my eyes the Ferrari 250 GTO is the most iconic car ever made. I hope that one day I will get the chance to drive this beautiful car again.

Suppose you had to give someone a lift. Who would that be and why?
Since I love well-known car movies, I would like to give Nicholas Cage a ride. Of course completely in style in the well-known Ford Mustang Shelby GT500 Eleanor from the movie 'Gone in 60 seconds'. We even had a Mustang Eleanor in stock at ERclassics a few years ago, what a fantastic car this was. Besides the Ferrari 250 GTO, the Eleanor also belongs in my top 10 favorite cars.

What is your best car related memory?
The best car-related memories are the many vacations we took in our Peugeot 306 Cabriolet. 5000 kilometers with the hood down, wonderful! For some reason we always manage to get onto roads where normally you should only come with a 4x4. Yet the faithful Peugeot has never let us down and has always brought us home safely.

What makes a working day at E&R Classics so much fun for you?
The fantastic colleagues and the good atmosphere within the company ensure that a working day flies by. Furthermore, it is really a joy to work with such beautiful classic cars. From American classics to British Classic Cars, it's all there at ERclassics. The extensive range of classic cars also ensures that you are never busy with the same work. Every classic is different and requires a different approach. I also like the diversity in my work. One day I'm on site at a customer in France and the next I'm working on a Jaguar E-Type. No day is the same!