Sunday October 1 CARS & COFFEE and SHOWROOM EXTRA OPEN (12:00-16:00) - October 3 (German Unity Day) SHOWROOM OPEN
Vincent Praag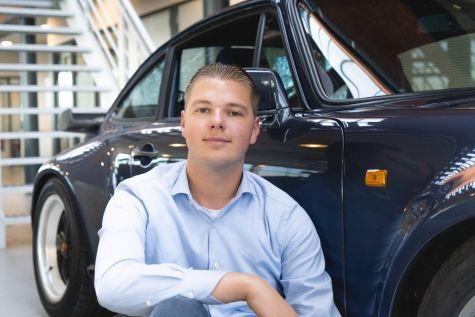 My name is Vincent Praag and I work in the purchasing and sales department within E&R Classics. After secondary school I went to TIO Eindhoven where I followed the Commercial Business Management course. I completed this study in 1 year instead of 3 years. I couldn't wait to get started among all the beautiful classic cars!

My first car was an Alfa Romeo Mito. This car has been waiting for me for a longer time than I have driven it. It was a very nice first car, but after 3 months it started to itch again and I went looking for something else.

My dream car is a classic Ferrari. I have expensive taste… The power and sound of a Ferrari in combination with the looks, makes it my ultimate dream car.

Suppose you had to give someone a lift. Who would that be and why?
I would give Max Verstappen a lift, maybe he can give me some driving lessons. In 2021 Max became world champion for the first time and in what way! On the last lap he overtook Hamilton, wonderful (for the Max fans)! I'm a huge Formula 1 fan myself, that's the reason for me to choose him.

What is your best car related memory?
For me the most special memory is that I sold a Porsche 356 to a very sweet lady on a Spanish island. I got in touch with her by phone and she asked for some more information about our extensively restored Porsche 356. After a few conversations, she indicated that she really liked this classic Porsche in her garage.

After the necessary research in connection with transport to this Spanish island, we succeeded. A beautiful Porsche 356 is now at home with a beautiful person!

What makes a working day at E&R Classics so much fun for you?
I enjoy going to work every day. Personally, I really like the variation you experience every day. For example, in the morning I don't know what classic cars I'll be offered or which classic car is being sold today. I especially enjoy the contact with customers, and they are all car enthusiasts who share the same passion for old-timers. In addition, I think our team is a top team. Everyone works hard and has fun and that creates a good atmosphere!