Sunday October 1 CARS & COFFEE and SHOWROOM EXTRA OPEN (12:00-16:00) - October 3 (German Unity Day) SHOWROOM OPEN
Go to inventory
Sell my car
Jaguar XKR
In 2000 the Jaguar XKR was launched.
The XKR had 370 hp, a subtle rear spoiler, mesh grille on the front and red emblems on the outside. The engine of the XKR was made in England, the ignition system was from NGK in Japan, the transmission was a Mercedes-Benz 722.6, the lighting system was from Valeo in France and the supercharger was made by Eaton in America. The XKR models between 2000 and 2002 had a 4.0 engine.
Buying a Jaguar XKR?
The 2000 XKR received positive reviews from magazines such as Road & Track, Car & Driver and Automobile.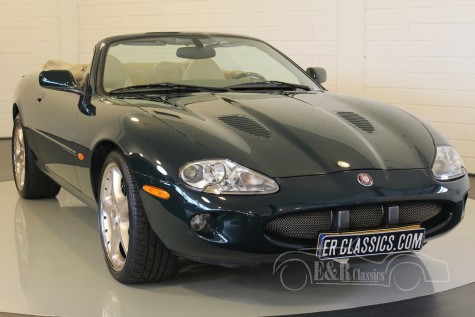 E & R Classics, your Jaguar Classic Car specialist!
Click here to see our inventory
What are the advantages of buying a Jaguar XKR car at ER Classics?
- A great assortment of classic cars for sale
- All cars are carefully checked by the mechanics in our own workshop
- MOT, welding and interior proceedings for your Jaguar XKR car
- Our specialised oldtimer mechanics can take care of all proceedings
- We can take care of repairs, maintenance as well as customised needs
- Complete restauration of your Jaguar XKR car
- We can deliver your classic car to any European country