Sunday October 2 CARS & COFFEE en SHOWROOM EXTRA OPEN (12:00-16:00)
Go to inventory
Sell my car
Jaguar XJS
Jaguar presented the XJ-S in 1975 which functioned as a successor of the Jaguar E-Type. The design and development of the car was led by William Heynes. The first series included a V12 engine with the choice between a manual or an automatic transmission. The car accelerates from 0 to 97 km/h in 7.6 seconds and has a top speed of 230 km/h. The XJ-S was launched during the fuel crisis. The buttresses behind the windows resulted into the fact that German authorities refused to give approval to the XJS. This led to the fact that every German buyer had to obtain road approval for each individual car.
The second series of the Jaguar XJ-S was manufactured from 1981 to 1991 and included several changes in comparison to the first series. The XJ-S was renamed to the XJ-S HE, because of the High-Efficiency V12 engine. The engine resulted in much better fuel economy and the power output was increased to 295 hp (263 hp in North-America). Several changes were also made to the exterior and interior of the car, for example the five-spoke alloy wheels and chrome inserts on the upper part of the bumpers.
Buying a Jaguar XJS?
The third series of the XJS was launched in 1991. Again, several changes were made such as the enlarged rear side windows. The buttresses remained, because designer Geoff Lawson described them as a part of the car's character. The car got a new engine and the transmission got an update. The XK8 became the successor of the XJS after several years.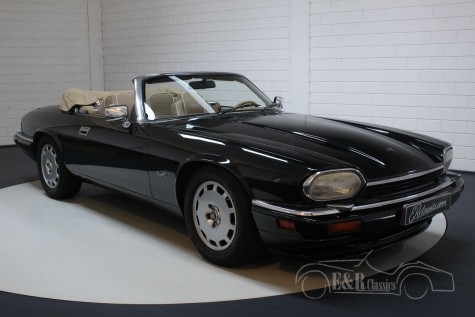 E & R Classics, your Jaguar Classic Car specialist!
Click here to see our inventory
What are the advantages of buying a Jaguar XJS car at ER Classics?
- A great assortment of classic cars for sale
- All cars are carefully checked by the mechanics in our own workshop
- MOT, welding and interior proceedings for your Jaguar XJS car
- Our specialised oldtimer mechanics can take care of all proceedings
- We can take care of repairs, maintenance as well as customised needs
- Complete restauration of your Jaguar XJS car
- We can deliver your classic car to any European country