July 14 (Bastille Day) SHOWROOM OPEN - July 21 (Belgian National Day) SHOWROOM OPEN - July and August OPEN as usual
Go to inventory
Sell my car
Jaguar MK II
The Jaguar MK II is a luxury sports saloon. The Mark II was manufactured from 1959 to 1967 and functions as the successor of the Mark I. The Mark II however did not have a direct successor. The car is available with three types of engines, namely the 2.4, the 3.4 and the 3.8 litre. The Mark 2.4 has 120 hp, the Mark 3.4 has 210 hp and the Mark 3.8 has 220 hp.
The body of the car experienced several changes in comparison to its predecessor. One of those changes was that the car was re-engineered above the waistline, which improved vision by 18 percent. The revised body also included a different radiator grille and larger lamps that were repositioned. The body of the car was however not the only part of the car that was changed. The interior of the car got an improved instrument layout. With the Jaguar MK II, four-wheel disc brakes became the standard.
Buying a Jaguar MK II?
The 3.4 litre for example reaches a top speed of 119.9 mph (193 km/h). The car goes from 0 – 60 mph (97 km/h) in only 11.9 seconds. In comparison to the 3.4 litre, the 3.8 litre reaches a top speed of 125 mph (201 km/h) and goes from 0-60 mph (97 kmh) in just 8.5 seconds. In total, Jaguar has manufactured 83976 cars of the Mark II series. After 1967, the 2.4 and 3.4 litre Mark II got renamed to 240 and 340.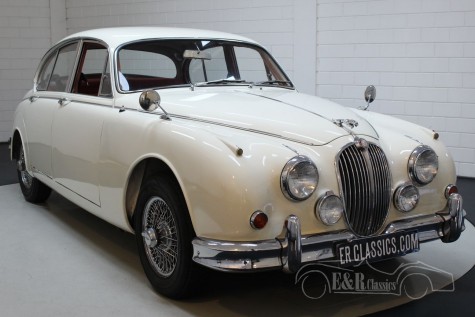 E & R Classics, your Jaguar Classic Car specialist!
Click here to see our inventory
What are the advantages of buying a Jaguar MK II car at ER Classics?
- A great assortment of classic cars for sale
- All cars are carefully checked by the mechanics in our own workshop
- MOT, welding and interior proceedings for your Jaguar MK II car
- Our specialised oldtimer mechanics can take care of all proceedings
- We can take care of repairs, maintenance as well as customised needs
- Complete restauration of your Jaguar MK II car
- We can deliver your classic car to any European country