Sunday October 1 CARS & COFFEE and SHOWROOM EXTRA OPEN (12:00-16:00) - October 3 (German Unity Day) SHOWROOM OPEN
Go to inventory
Sell my car
Ford Sierra Cosworth
Development of the Ford Sierra Cosworth began when Stuart Turner became the head of Ford Motorsport in Europe. Turner realized that at that point Ford could no longer compete with rivals in motorsport. That's why he wanted to develop a car that would bring Ford back into the competition
The car's engine was designed by Cosworth. Ford wanted the YAA engine where the engine should deliver 180 HP on the street and 300 HP in the race set-up. Cosworth set two requirements before agreeing to Ford. First, the engine was not allowed to deliver less than 204 HP. In addition, Ford would have to buy at least 15,000 engines from Cosworth. Despite only needing 5,000 engines, Ford accepted the deal.
The Ford Sierra Cosworth was unveiled at the 1985 Geneva Motor Show. The Ford with the YAA engine reaches a top speed of 239 km/h. The car accelerates from 0 to 97 km/h in just 6.5 seconds. The car was made until 1992.
Buy Ford Sierra Cosworth classic car
Finding a Ford that's right for you is priority number one. The search for your dream car often starts online. ERClassics has done everything it can to give you an idea of ​​the cars, so every car on our own site is provided with a photo report, 360 degrees images, a video and background information about the car can be found. Would you rather view the car physically? Then you can visit our showroom in Waalwijk, the Netherlands. Check our website for opening times.
Buy a classic Ford Sierra Cosworth
High quality Ford Sierra Cosworth classic cars at E&R Classics
All classic cars offered by us, including the Ford Sierra Cosworth, are checked against a list with 125 points. This assessment is performed by one of our own technicians. Delivering classic cars that are in perfect condition is of great importance to ERClassics. The classic cars offered by us are therefore of high quality. If you would like more information about maintenance on a classic car or if you are wondering what mechanics in classic car workshops do, click here.
Trade in or sell your Ford Sierra Cosworth classic car
At ER Classics you can of course buy a Ford Sierra Cosworth, but we also offer the option to sell your current classic car or to trade it in. If you would like more information about selling or trading in your classic car, please contact one of our classic car experts. You can of course also visit our showroom to discuss the possibilities.
Sell or trade in the Ford Sierra Cosworth ?
Maintenance on a classic car
Of course every car needs maintenance, and it can sometimes happen that something needs to be repaired. It is no different for a classic car. Because you like to keep your classic car in top condition, a good garage is important. Any garage can provide you with maintenance, but sometimes you just need that extra bit of specialism, then you can choose to take your classic car to a classic car workshop where they focus on 1 brand or type of classic car. The mechanics often work with the same classic cars and have thus specialized in maintenance or repairs on those specific classic cars.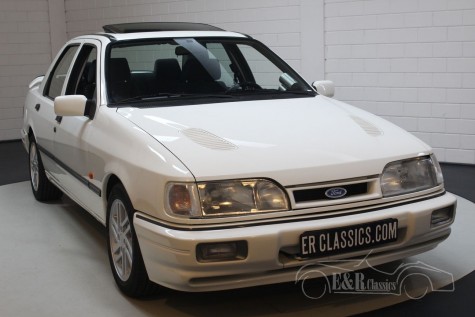 ER Classics has the right classic Ford Sierra Cosworth for you!
What are the advantages of buying a Ford Sierra Cosworth classic from ER Classics?
- Wide range of Ford classics for sale
- All old-timers have been thoroughly checked by our own workshop
- Own workshop with 20 mechanics
- Registration and inspections
- Worldwide transport to the door
- High quality and service
- Trade-in options
- Customers rate us with a 8.9
Europe's number 1 online classic car dealer
If you are looking for a beautiful new Ford Sierra Cosworth, you will be assisted by one of our own classic car experts. ERclassics has specialized in the purchase and sale of classic cars since 2008 and can rightly call itself Europe's number 1 online classic car dealer.