Sunday July 3 CARS & COFFEE and SHOWROOM EXTRA OPEN from 12:00 to 16:00 - July and August OPEN as usual
Go to inventory
Sell my car
Ford Capri
The Ford Capri is a fastback coupé that was manufactured from 1968 to 1986. The car was designed by Philip T. Clark and was meant to be an European equivalent of the Mustang. The first Ford Capri was the Mk I. The car was unveiled at the Brussels Motor Show and had similarities to the Cortina. Ford had the desire to reach a broad spectrum of buyers by making the MK I affordable. The car was made affordable through various engines. Ford revised the MK I in 1972, including new seats and enlarged tail lights.
The Ford Capri MK II was manufactured from 1974 to 1978. Partially due to the oil crises in 1973, Ford decided to create a car that was more suitable for everyday driving. This resulted in some changes to the car, such as a shorter bonnet and a hatchback rear door. The Capri MK II was the first Ford to include a hatchback rear door. The car was mechanically similar to the Mk I. However, the MK II had a larger body, a more modern dashboard and a smaller steering wheel.
Buying a Ford Capri?
"Project Carla" was a reference to the Capri MK III that was manufactured from 1978 to 1986. The car included some changes in comparison to the MK II. The concept of the revised MK II was presented at the Geneva Motor Show in 1976. The front of the MK III included four headlamps and a black slatted grille. Moreover, the Capri MK III improved its aerodynamics, which led to the improvement of the performance of the car.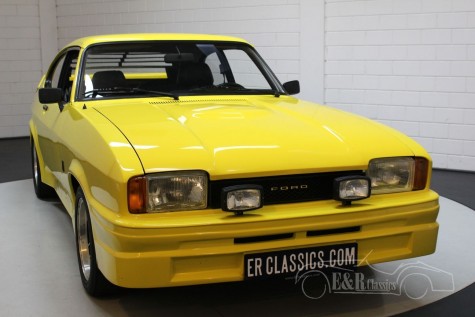 E & R Classics, your Ford Classic Car specialist!
Click here to see our inventory
What are the advantages of buying a Ford Capri car at ER Classics?
- A great assortment of classic cars for sale
- All cars are carefully checked by the mechanics in our own workshop
- MOT, welding and interior proceedings for your Ford Capri car
- Our specialised oldtimer mechanics can take care of all proceedings
- We can take care of repairs, maintenance as well as customised needs
- Complete restauration of your Ford Capri car
- We can deliver your classic car to any European country