Sunday October 2 CARS & COFFEE en SHOWROOM EXTRA OPEN (12:00-16:00)
Go to inventory
Sell my car
Mercedes-Benz SLK
The Mercedes-Benz SLK-Class is a compact luxury roadster produced by Daimler-Benz. Mercedes presented the SLK II concept car at the Paris Motor Show in 1994. The car came on the European market two years later and on the American market in 1997. The SLK is built in Bremen, Germany. The designation "SLK" is derived from the design assignment of the company to make a roadster that was sporty, light and short (in German: sportlich, leicht und kurz).
Mercedes-Benz Classic Cars For Sale
First generation (1996-2004)
The R170 Mercedes SLK was the first generation compact roadster produced from 1996 to 2004 by Mercedes-Benz. The design dates from late 1991 under supervision of Bruno Sacco, with a final design that was completed in early 1993 and approved by the council. The production SLK class was introduced at the Turin Motor Show on April 22, 1996.
Buying a Mercedes-Benz SLK?
Second generation (2004-2010)
The R171 Mercedes SLK has a number of revisions compared to its predecessor; a 30mm longer wheelbase, a larger length (72mm) and width (65mm), automatic seven-speed transmission, adaptive two-stage airbags, head / thorax sidebags and a renewed roof mechanism. Optional features include the retractable hardtop remote control and air heating integrated on the headrests at neck level. The design is aerodynamically optimized to minimize internal airflow with the top retracted.
Third generation (2011-present)
The development of the R172 Mercedes SLK began in 2005, with a final design that was chosen in 2008. Mercedes-Benz announced the new SLK in the autumn of 2010. The company took the unusual step of publishing various press releases in October and November 2010 and announced new features such as "Magic Sky Control".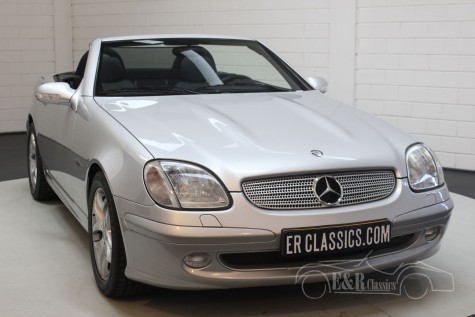 E & R Classics, your Mercedes-Benz Classic Car specialist!
Click here to see our inventory
What are the advantages of buying a Mercedes-Benz SLK car at ER Classics?
- A great assortment of classic cars for sale
- All cars are carefully checked by the mechanics in our own workshop
- MOT, welding and interior proceedings for your Mercedes-Benz SLK car
- Our specialised oldtimer mechanics can take care of all proceedings
- We can take care of repairs, maintenance as well as customised needs
- Complete restauration of your Mercedes-Benz SLK car
- We can deliver your classic car to any European country