Sunday July 3 CARS & COFFEE and SHOWROOM EXTRA OPEN from 12:00 to 16:00 - July and August OPEN as usual
Go to inventory
Sell my car
Triumph TR6
The Triumph TR6 (1969–1976) is a British 6-cylinder sports car and the best-seller of the TR range built by Triumph when production ended in July 1976. This record was later surpassed by the TR7. Of the 94.619 TR6s produced, 86.249 were exported; only 8.370 were sold in the UK.
The bodywork closely resembled that of the previous model; the Triumph TR5, but the front and back ends were squared off, reportedly based on a consultancy contract involving Karmann. This is referred to as a Kam-style back, which was very common during the 1970s. The body shape was similar to the TR4 and TR5 except for the rear and front.
All TR6 sports cars featured inline 6-cylinder engines. For the US market the engine was carburetted just like the US-only TR250 engine. Like the TR5, the TR6 was fuel-injected for other world markets including the UK, hence the TR6PI (petrol-injection) designation. The Lucas mechanical fuel injection system helped the home-market TR6 produce 150 bhp. Later the non-US TR6 variant was reduced to 125 bhp in order for it to be easier to drive, while the US variant continued to be carburetted with a mere.
Buying a Triumph TR6?
The TR6 featured a 4-speed manual transmission. An optional overdrive unit was a desirable feature because it gave drivers close gearing for aggressive driving with overdrive available on the 2nd, 3rd and top gears on early models, yet "long legs" for open motorways. The TR6 also featured semi-trailing arm independent rear suspension, rack and pinion steering, 15-inch wheels and tires, pile carpet on floors and trunk/boot, bucket seats and a full complement of instrumentation. Braking was accomplished by disc brakes at the front and drum brakes at the rear. A factory steel hardtop was optional. The TR6 construction was fundamentally old-fashioned: the body was bolted onto a frame instead of the two being integrated into a unibody structure; the TR6 dashboard was wooden.
The TR6 can accelerate from zero to 60 mph in 8,2 seconds and has a top speed of 120 mph according to Autocar magazine.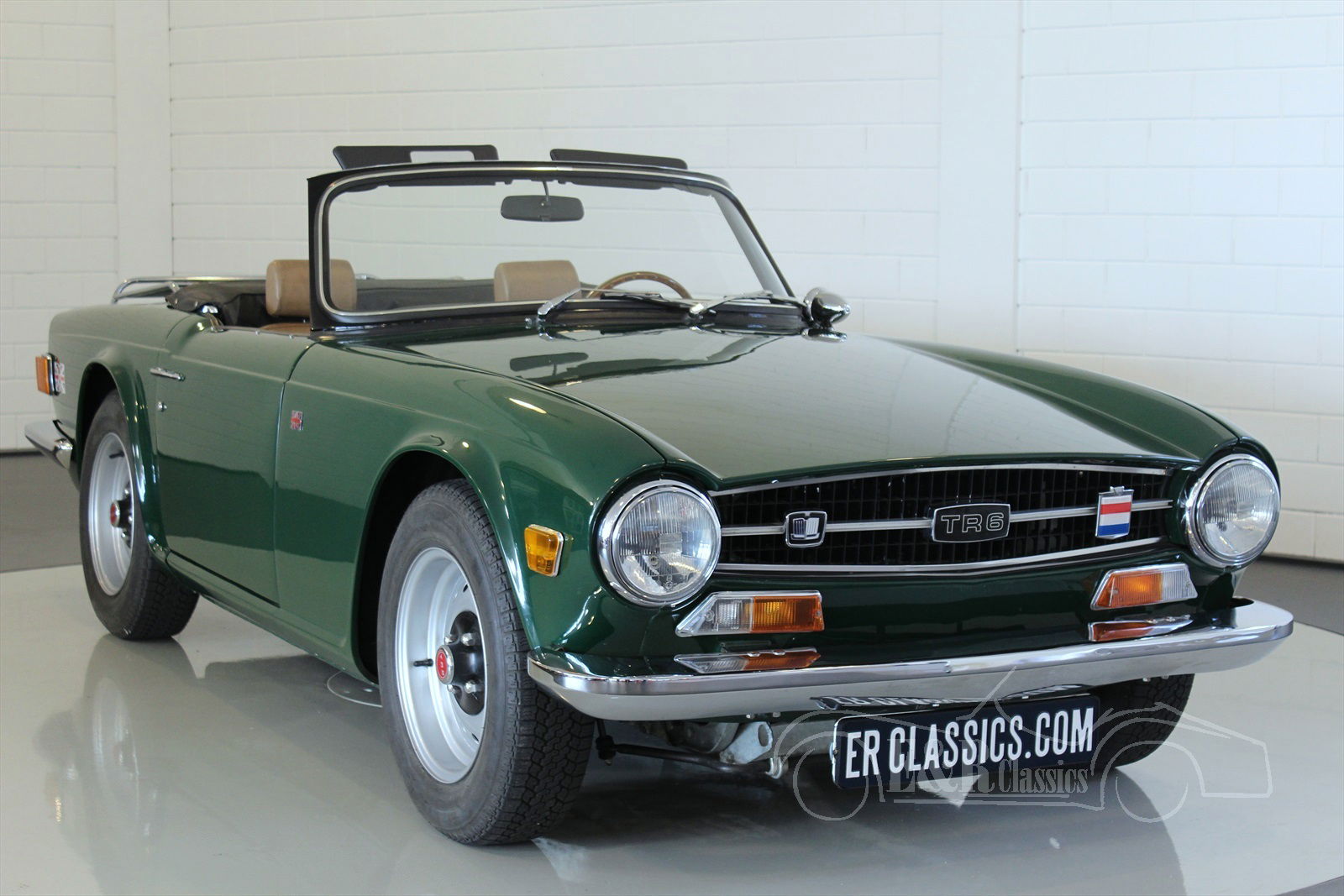 E & R Classics, your Triumph Classic Car specialist!
Click here to see our inventory

What are the advantages of buying a Triumph TR6 car at ER Classics?
- A great assortment of classic cars for sale
- All cars are carefully checked by the mechanics in our own workshop
- MOT, welding and interior proceedings for your Triumph TR6 car
- Our specialised oldtimer mechanics can take care of all proceedings
- We can take care of repairs, maintenance as well as customised needs
- Complete restauration of your Triumph TR6 car
- We can deliver your classic car to any European country