May 26 (Ascension Day) SHOWROOM CLOSED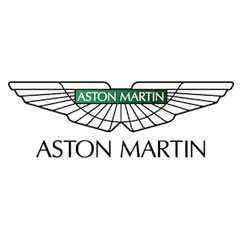 Go to inventory
Sell my car
Aston Martin V8 V12 Vantage
The Aston Martin V8 Vantage was introduced at the Geneva Motor Show in 2005. The two-seater coupé with two doors had an aluminum structure. The 4.38-meter-long car was equipped with a tailgate that resembled that of a hatchback, with a large luggage rack behind the seats. In addition to the coupé, a convertible, known as the V8 Vantage Roadster, was introduced later that year. The V8 Vantage was powered by a 4.3L quad-cam 32-valve V8. Models produced after 2008, however, had a 4.7L V8. The cylinder block and cylinder heads, crankshaft, connecting rods, pistons, camshafts, intake and exhaust manifolds, lubrication system and engine management were all internally designed by Aston Martin and the engine was assembled by hand at the AM plant in Cologne, Germany. The original V8 Vantage could accelerate from 0 to 97 km/h in 4.8 seconds. The V8 Vantage costed €104,000 in 2006. Included was a six-speed manual and leather upholstery for the seats, the dashboard, the steering wheel and the gearshift knob. A new manual six-speed gearbox called Sportshift was later introduced as an option.
Aston Martin Classic Cars For Sale
On 11 December 2007, Aston Martin unveiled a concept car based on the V8 Vantage as part of the opening of its own design studio. This model, known as the V12 Vantage RS, had the AM11 V12 engine from the DBS and produced 510hp. With a weight of 1695kg this car accelerates from 0 to 100 km/h in 4.2 seconds and has a top speed of 310 km/h. Additions are a new diffuser at the rear, a retractable rear wing that can be raised or lowered and carbon-ceramic brakes. The boot lid and ventilated hood are also made of carbon fiber to reduce the weight of the car. Early 2008, the CEO of Aston Martin confirmed the production of the V12 Vantage RS for mid-2009. Prototypes of the V12 Vantage RS appeared in April 2008 before Aston Martin unveiled the production version that was simply named V12 Vantage in 2009. According to Aston Martin, for the American market some subtle changes to the structure of the car were necessary to comply with the North and South American regulations. In addition to these improvements, the company announced a new Carbon Black version of the V12 Vantage exclusively for the American market.
Buying an Aston Martin V8 V12 Vantage?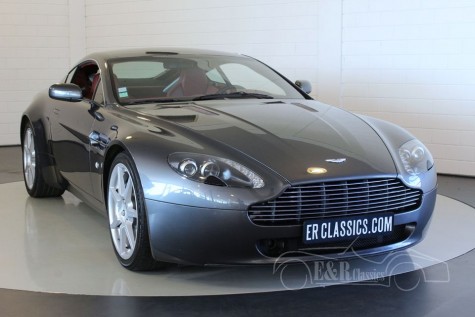 E & R Classics, your Aston Martin Classic Car specialist!
Click here to see our inventory
What are the advantages of buying a Aston Martin V8 V12 Vantage car at ER Classics?
- A great assortment of classic cars for sale
- All cars are carefully checked by the mechanics in our own workshop
- MOT, welding and interior proceedings for your Aston Martin V8 V12 Vantage car
- Our specialised oldtimer mechanics can take care of all proceedings
- We can take care of repairs, maintenance as well as customised needs
- Complete restauration of your Aston Martin V8 V12 Vantage car
- We can deliver your classic car to any European country