Sunday July 3 CARS & COFFEE and SHOWROOM EXTRA OPEN from 12:00 to 16:00 - July and August OPEN as usual
Go to inventory
Sell my car
Aston Martin DB7
The Aston Martin DB7 is a grand tourer produced by Aston Martin between September 1994 and December 2004. The Grand Tourer was available in a coupé or convertible configuration. The prototype designed by Ian Callum and Keith Helfet was finished in November 1992 and debuted at the Geneva Motor Show in March 1993. The six-cylinder DB7 was seen as an "entry model" of the hand-built V8 Virage. This model was the most produced Aston Martin vehicle ever, with more than 7000 units built before it was replaced by the DB9.
Aston Martin Classic Cars For Sale
The DB7 was mostly made with Jaguar resources and financial support from the Ford Motor Company, owner of Aston Martin between 1988 and 2007. The DB7 evolved from the Jaguar XJS, although many changes were made. The DB7 was designed in Kidlington, Oxfordshire, by Tom Walkinshaw Racing on behalf of Aston Martin. With the production of the Virage that took place in Newport Pagnell, a new factory was acquired for the DB7 in Bloxham, Oxfordshire, which was previously used for the production of the Jaguar XJ220. The DB7 and its variants were the only Aston Martin cars produced in Bloxham and the only one with a steel structure inherited from Jaguar.
Buying an Aston Martin DB7?
The Volante convertible was unveiled at the North American international auto show in Detroit in 1996. Both versions have a supercharged six-cylinder engine. In the United States, the Coupé was sold for 140,000 USD and the Volante for 150,000 USD. Works Service delivered a special Driving Dynamics package that significantly improved performance and use for owners who wanted more than what the standard configuration offered.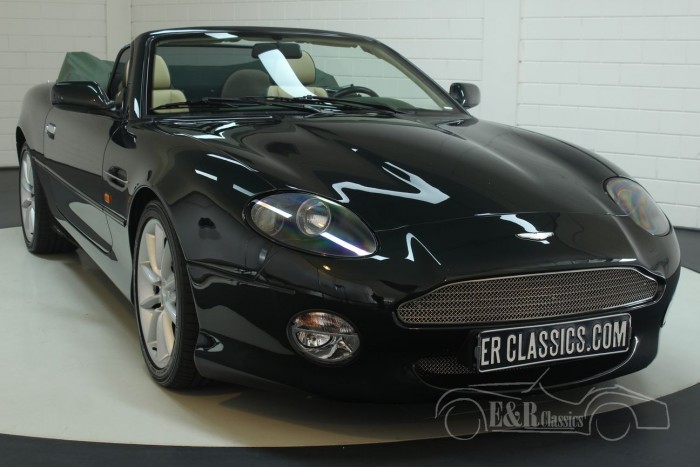 E & R Classics, your Aston Martin Classic Car specialist!
Click here to see our inventory
What are the advantages of buying a Aston Martin DB7 car at ER Classics?
- A great assortment of classic cars for sale
- All cars are carefully checked by the mechanics in our own workshop
- MOT, welding and interior proceedings for your Aston Martin DB7 car
- Our specialised oldtimer mechanics can take care of all proceedings
- We can take care of repairs, maintenance as well as customised needs
- Complete restauration of your Aston Martin DB7 car
- We can deliver your classic car to any European country