Sunday October 1 CARS & COFFEE and SHOWROOM EXTRA OPEN (12:00-16:00) - October 3 (German Unity Day) SHOWROOM OPEN
Go to inventory
Sell my car
BMW E30
The BMW E30 was produced between 1982 and 1994. It is the 2nd generation of the BMW 3-series. The first models used the two-door coupé body style, followed by four-door sedan models in 1983, convertibles in 1985 and station models in 1987.
The E30 was the first 3-series available in station and four-door sedan versions. It was also the first 3-series with a diesel engine option. The four-wheel drive 3-Series was introduced with the 325iX model.
Buying an BMW E30?
In 1990 the E30 coupe models were replaced by the E36. The sedan production was ended in Regensburg on April 30, 1991 with a white one. Other variants were gradually reduced until the last E30, a Touring, was produced in 1994.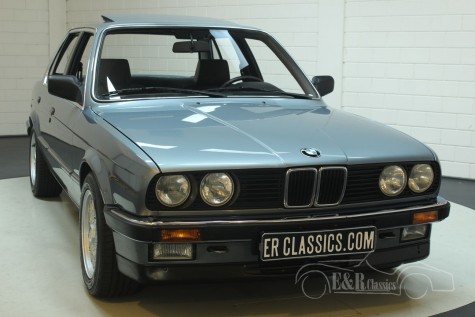 E & R Classics, your BMW Classic Car specialist!
Click here to see our inventory
What are the advantages of buying a BMW E30 car at ER Classics?
- A great assortment of classic cars for sale
- All cars are carefully checked by the mechanics in our own workshop
- MOT, welding and interior proceedings for your BMW E30 car
- Our specialised oldtimer mechanics can take care of all proceedings
- We can take care of repairs, maintenance as well as customised needs
- Complete restauration of your BMW E30 car
- We can deliver your classic car to any European country