Buy safely online | Delivery to your door | Trade-in possible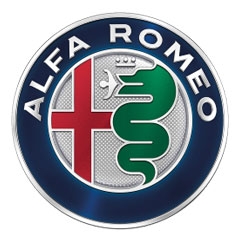 Go to inventory
Sell my car
Alfa Romeo Spider
The first generation of the Alfa Romeo Spider was manufactured from 1966 to 1993. In 1966, the first Spider was introduced. A write-in competition was organized in order to find a name for the car. Thousands of ballots were received. Eventually, a man from Italy came through with the winning ballot that held the name "Duetto". However, due to trademark issues, Alfa Romeo was unable to name the car "Duetto". Therefore, the car was named the 1600 Spider. The car was designed by Pininfarina. The chassis of the 1600 Spider was based on the chassis of the Giulia 105. The two-seater had a 1600 cc four-cylinder engine.
Alfa Romeo Classic Cars For Sale
In January 1968, the 1750 Spider Veloce was unveiled as successor of the Spider 1600. The top speed is 190 km/h (118 mph). After a while, the Spider 1300 Junior was introduced. The top speed of that car is 170 km/h (106 mph). The Spider 1300 Junior functioned as a lower priced Spider. The car differed in engine displacement and output and lacked some features that the more expensive cars included. The three-spoke wooden steering wheel was for example replaced by a two-spoke plastic rimmed one. In 1970, significant changes were made to the exterior of the car. The tail of the car was revised which led to an increase of the luggage space. More small changes were made such as the grille that was slightly different than its predecessor and new door handles. The Spider Veloce received a new powerplant which changed the name of the 1750 Spider in the 2000 Spider Veloce.
Buying a Alfa Romeo Spider?
In 1983, the Spider enhanced some changes, which included for example black rubber front and rear bumpers and a front bumper incorporating the grille. Three years later, the Quadrifoglio Verde (Green Fourleaf Clover) was introduced. The QV was offered in three colours: red, silver and black. The interior of the car was a bit improved. The car got for example a new centre console and lower dash panels. Minor changes occurred over the years. In 1990, the final series of the Spider was launched with several features such as an electric cooling fan and full-width rear taillights.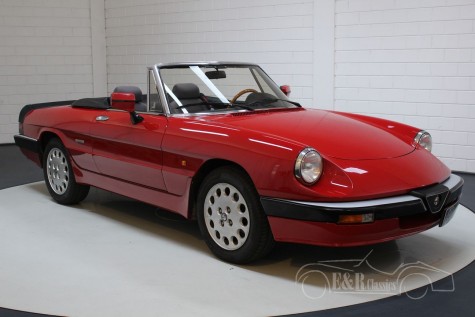 E & R Classics, your Alfa Romeo Classic Car specialist!
Click here to see our inventory
What are the advantages of buying a Alfa Romeo Spider car at ER Classics?
- A great assortment of classic cars for sale
- All cars are carefully checked by the mechanics in our own workshop
- MOT, welding and interior proceedings for your Alfa Romeo Spider car
- Our specialised oldtimer mechanics can take care of all proceedings
- We can take care of repairs, maintenance as well as customised needs
- Complete restauration of your Alfa Romeo Spider car
- We can deliver your classic car to any European country