July 14 (Bastille Day) SHOWROOM OPEN - July 21 (Belgian National Day) SHOWROOM OPEN - July and August OPEN as usual
Model
Go to inventory
Sell my car
Fiat Topolino
The Fiat Topolino was manufactured from 1936 to 1955. The name 'Topolino' however is not the official name for the car, but a nickname. Apart from that, the Topolino became the smallest car in the world in 1937. The series included three types. The first model had a 569cc 4-cylinder engine. The engine had 13 hp which resulted in a top speed of 85 km/h.
The first model was succeeded by model B that included 16 hp in 1948. Shortly after the introduction of model B, Fiat introduced model C in 1949. The engine of model C still had 16 hp, but the body of the car was changed. One of the changes was that the headlamps were integrated into the fenders.
Buying a Fiat Topolino?
Model A was manufactured from 1937 to 1948, while model B was built from 1948 to 1949. Model C was unveiled in 1949 and was made until 1955. After that, Fiat would produce a new Fiat 500, namely the Nuova 500.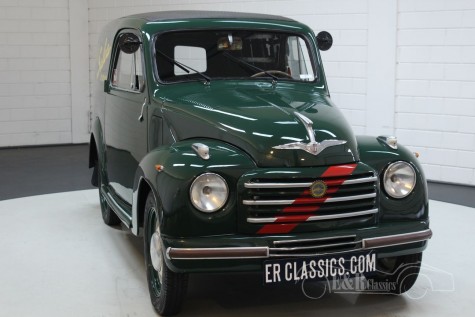 E & R Classics, your Fiat Classic Car specialist!
Click here to see our inventory
What are the advantages of buying a Fiat Topolino car at ER Classics?
- A great assortment of classic cars for sale
- All cars are carefully checked by the mechanics in our own workshop
- MOT, welding and interior proceedings for your Fiat Topolino car
- Our specialised oldtimer mechanics can take care of all proceedings
- We can take care of repairs, maintenance as well as customised needs
- Complete restauration of your Fiat Topolino car
- We can deliver your classic car to any European country