July 14 (Bastille Day) SHOWROOM OPEN - July 21 (Belgian National Day) SHOWROOM OPEN - July and August OPEN as usual
Go to inventory
Sell my car
Chevrolet Corvette
The Corvette is a two-door sports car. The car has been produced since 1953. The first generation of the Corvette is named the C1. The model was manufactured from 1953 to 1962. In the first two years, the C1 didn't include a V8 engine. The V8 engine came as an option for the car in 1955 which improved the acceleration of the car. In 1956, Chevrolet introduced a new exterior for the Corvette. From 1956 the car included optional features such as power windows and a four speed manual transmission. The Corvette was revised in 1958. The interior included small changes such as a new steering wheel and dashboard. The exterior of the car was also changed with for example a longer front end. The rear of the car was completely revised in 1961.
Chevrolet Classic Cars For Sale
From 1963 to 1967, the second generation of the Corvette was manufactured. The C2 was overall smaller than the C1. The car was designed by Larry Shinoda and was named the Sting Ray. The name Sting Ray refers to the sports racing car the Corvette Stingray Racer that was designed by Bill Mitchell. The Stingray Racer had a big influence on the styling of the second generation of the Chevrolet Corvette. The car was a coupé that included hidden headlamps and non-functional hood vents. In the late 1963, air conditioning became an optional feature for the car. In 1966 the car also included optional headrests.
Buying a Chevrolet Corvette?
The third generation of the Chevrolet Corvette was manufactured from 1968 to 1982. The C3 was the first car to use the T-top with removable roof panels. The engine and the chassis of the C3 was comparable to its predecessor, the C2. The C3 however had a different body and interior in comparison to the Corvette C2. The third generation also used the name Stingray, but as one word. In 1970, the C3 Stingray was revised with improvements such as redesigned seats. The usage of chrome bumpers came to an end in 1973. The C4 was manufactured from 1984 to 1996. The car was completely redesigned. The C4 had 43 prototypes due to quality issues and part delay.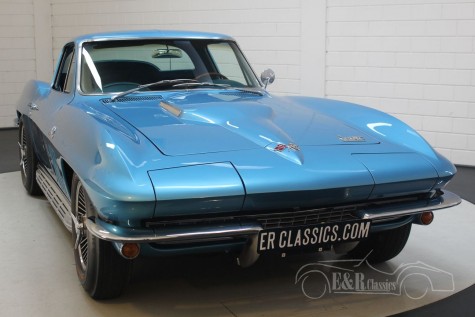 E & R Classics, your Chevrolet Classic Car specialist!
Click here to see our inventory
What are the advantages of buying a Chevrolet Corvette car at ER Classics?
- A great assortment of classic cars for sale
- All cars are carefully checked by the mechanics in our own workshop
- MOT, welding and interior proceedings for your Chevrolet Corvette car
- Our specialised oldtimer mechanics can take care of all proceedings
- We can take care of repairs, maintenance as well as customised needs
- Complete restauration of your Chevrolet Corvette car
- We can deliver your classic car to any European country