Sunday July 3 CARS & COFFEE and SHOWROOM EXTRA OPEN from 12:00 to 16:00 - July and August OPEN as usual
Go to inventory
Sell my car
Chevrolet Camaro
The first generation of the Camaro was unveiled in 1966. The car was available as a 2-doors coupé or as a convertible with 2 + 2 seating. The Ford Mustang enjoyed loads of success. The compact sporty car of Chevrolet, named the Corvair, was unable to compete with the Mustang. Therefore, Chevrolet came forward with the Camaro which was similar to the Mustang. The car was designed in order to create a car that had similar conventional rear-drive and front-engine configuration such as the Mustang. The first generation of the Camaro was manufactured until 1969.
Chevrolet Classic Cars For Sale
The second generation was manufactured from 1970 until 1981. In comparison to the first generation, the car of the second generation was longer, lower and wider. The car was not available as a convertible. There were several changes made to the second generation of the Camaro. The car's chassis and suspension were revised which led to the improvement of the comfort and the performance of the car. The car got a facelift in 1974 and 1978. The car became a bit larger and wider.
Buying a Chevrolet Camaro?
The third generation of the Camaro was produced from 1981 to 1992. The car was the first one to offer features such as modern fuel injection and five-speed manual transmissions. The car was almost 500 pounds (227 kg) lighter than its predecessor. Chevrolet reintroduced a convertible Camaro in 1987. The design of the car was nothing like its predecessors. The rear window was large and enhanced recent developments. The front windshield was at an angle of 62 degrees. This broke an internal GM rule that limited such angles to sixty degrees. Over the years, the Camaro got three new generations, making it a total of six generations.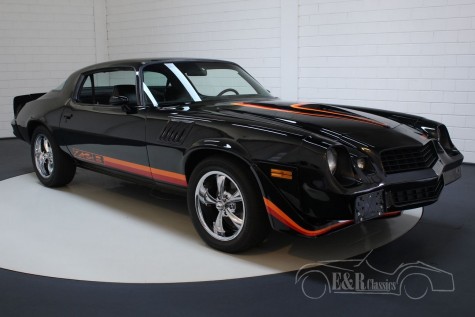 E & R Classics, your Chevrolet Classic Car specialist!
Click here to see our inventory
What are the advantages of buying a Chevrolet Camaro car at ER Classics?
- A great assortment of classic cars for sale
- All cars are carefully checked by the mechanics in our own workshop
- MOT, welding and interior proceedings for your Chevrolet Camaro car
- Our specialised oldtimer mechanics can take care of all proceedings
- We can take care of repairs, maintenance as well as customised needs
- Complete restauration of your Chevrolet Camaro car
- We can deliver your classic car to any European country