Buy safely online | Delivery to your door | Trade-in possible
Model
Go to inventory
Sell my car
Honda NSX
The Honda NSX is a sports car. The name NSX is derived from the sports car called HP-X. The N in the abbreviation stands for 'new', or new and the S stands for 'sportscar', or sports car. The X in the abbreviation represents the mathematical symbol that represents an unknown variable. With regard to the name NSX, the X stands for an 'unknown world'.
The first generation of the NSX was produced from 1990 to 2005. Masahito Nakano and Shigeru Uehara headed the team that designed the car. The cockpit of an F-16 was used as inspiration for the styling of the car. The NSX was special in that it was the first car to be mass-produced in aluminum. The car was unveiled at the Chicago Auto Show in 1989. The car has undergone several upgrades and facelifts over the years.
The second generation has been produced since 2016. Honda intended to launch the successor to the first generation in 2010. However, due to economic circumstances, the plan was canceled. The concept of the second generation of the NSX was unveiled at the North American International Auto Show in 2012. The car was only shown in 2015 and was not sold until 2016. The abbreviation NSX now has a different meaning, namely: New Sports eXperience.
Buy Honda NSX
Finding a Honda NSX that's right for you is the number one priority. The search for your dream car often starts online. ERClassics has done everything it can to give you an idea of ​​the cars, so every car on our own site is provided with a photo report, 360 degrees images, a video and background information about the car can be found. Would you rather view the car physically? Then you can visit our showroom in Waalwijk, the Netherlands. Check our website for opening times.
Trade in or sell your Classic Honda
At ER Classics you can of course buy a Honda NSX, but we also offer the option to sell your current classic car or to trade it in. If you would like more information about selling or trading in your classic car, please contact one of our classic car experts. You can of course also visit our showroom to discuss the possibilities.
High quality Honda NSX at E&R Classics
All cars offered by us, including the Honda NSX, are checked against a list with 125 points. This assessment is performed by one of our own mechanics. Delivering cars that are in perfect condition is of great importance to ERClassics. The carss offered by us are therefore of high quality. If you would like more information about maintenance on a classic car or if you are wondering what mechanics in classic car workshops do, click here.
Maintenance on a classic car
Of course every car needs maintenance, and it can sometimes happen that something needs to be repaired. It is no different for a classic car. Because you like to keep your classic car in top condition, a good garage is important. Any garage can provide you with maintenance, but sometimes you just need that extra bit of specialism, then you can choose to take your classic car to a classic car workshop where they focus on 1 brand or type of classic car. The mechanics often work with the same classic cars and have thus specialized in maintenance or repairs on those specific classic cars.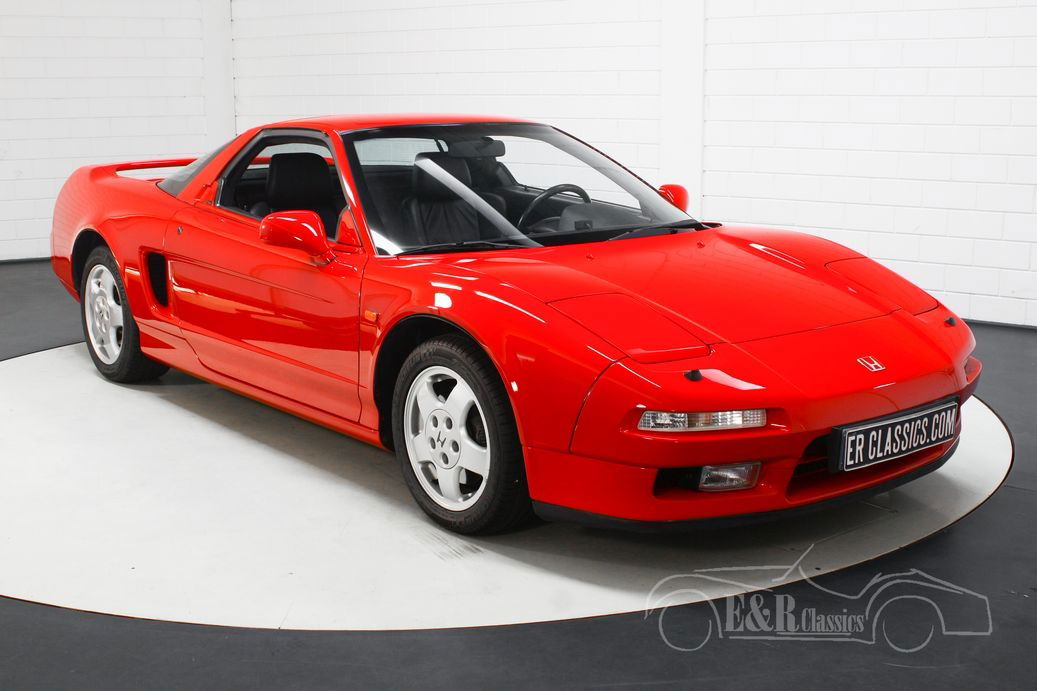 ER Classics has the right Honda NSX for you!
What are the benefits of buying a Honda NSX from ER Classics?
- Wide range of Honda cars for sale
- All old-timers have been thoroughly checked by our own workshop
- Own workshop with 20 mechanics
- Registration and inspections
- Worldwide transport to the door
- High quality and service
- Trade-in options
- Customers rate us with a 8.9
Europe's number 1 online classic car dealer
If you are looking for a beautiful new Honda NSX, you will be assisted by one of our own oldtimer experts. ER classics has specialized in the purchase and sale of oldtimers since 2008 and can rightly call itself Europe's number 1 online classic car dealer.