August 15 (Assumption) SHOWROOM OPEN - July and August OPEN as usual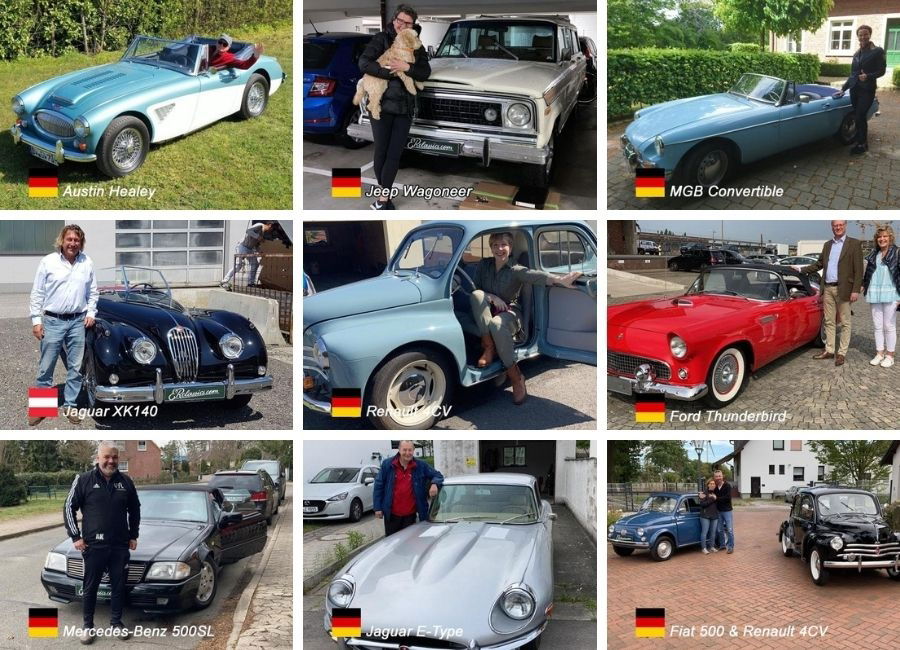 Share with a friend
Newsletter
Stay up to date.
Paul and Shirley, Malta



Our 1970 Triumph Spitfire arrived in Malta last week. We purchased her online and it was the very first time we had ever done that. We cannot say enough about how professionally we were handled from beginning to end. Lars did an amazing job of giving us the right information, following through on every aspect and detail of the sale and subsequent shipping. The car, when it arrived, was absolutely everything that the pictures and ER Classics stated that she would be and we could not be more pleased with her. We would highly recommend using this company to purchase a classic car and we will not hesitate to recommend them to our family and friends.

Michaela, Germany



I also shed a few tears when the van came around the corner! The present has moved us to tears too !!!! Thank you! Thanks again for your great help! You're awesome!!!! The lady of the transport was very nice too !!!!

Ben, The Netherlands



I received the agreed amount in good order. Thank you for that and for all the effort to get things done. We will say it all ends well. If anything else is needed, I would like to hear it.

Fanny, The Netherlands



We are the proud owners of this beautiful Citroën HY Camper, E & R thanks for the good service!

Sylvain, France



I received the vehicle well this afternoon. All went well. The supplier was very kind and professional. Thanks for everything.

Andre & Petra, Germany



Many thanks for the trouble-free purchase and delivery of our VW T2A '71.

Eugenio, Portugal



Good afternoon Mr Vincent Praag. The car arrived well, looks like everything is fine. Thanks

Elke, Germany



The MGB was well received by me !!! Super nice car! I also rented a garage. Unfortunately rain today, but the next spring is sure to come. Thanks for the nice handling !!!

Steve, UK



Just wanted to thank you for the mg! The transport went well, the driver and Antoine were very helpful.

Ton & Cecile, Holland



Special thanks for the sent photoreport, unbelievable great photo series!!! Compliments! very professional.

Marc, Netherlands



I am still very happy with it, especially in terms of reception and attention.

Richard, The Netherlands



I want to thank you for the way it all went well by selling my Volvo 1800S. The money was put on my account today. I certainly will recommend your company at my friends when they want to sell their Oldtimer. Maybe see you soon.

C, France



Hi, Just a message because I am discovering your website, bravo what a choice of beautiful cars and motorcycles Bravo for your choices good luck and I'll keep the address just in case! Beautiful !!

Claus, Germany



Many thanks, communication with you is just perfect !

Frans and Stefien, The Netherlands



Yesterday MOT inspection MG-B and it passed with flying colors. There they talked about ATF oil. We really enjoy our beautiful MG. With this weather we often go on tour, once a week. Magnificent! We make trips of about 300 km.

Harald, Germany



I just wanted to express my 100% positive judgement on you PERFECT service. I already bought 2 cars and just wanted to say THANK YOU - perfect cars and excellent Service. I would always buy my classic cars at ERClassics.

Jos, The Netherlands



About 2 months ago I came across ER-classics on an Oldtimer Forum. Last week I was in the neighbourhood of Waalwijk and I decided to take a look around. What a marvelous Showroom with fabulous looking Oldtimers!!

Anastasi, France



I want to let you know that the delivery of the car went very well. The car is TOP, I am very happy, but also with your service.

Fernanda, Italy



I am very happy to inform you that the Isetta was delivered yesterday afternoon. It was a great pleasure doing business with you and if I ever will be looking for a "new" old classic car again, I know where to go first.

Jean Michel, France



We arrived well with the Triumph. She looks really spectacular, thanks for your hospitality. My friend for sure will be a future customer, he was impressed.
Read more (305)
In-house workshop with over 20 mechanics

Registration and inspections (NL/BE/DE/FR)

International door to door delivery