October 3 (German Unity Day) OPEN - Sunday October 4 EXTRA OPEN (12:00-16:00)
Thank you
Thank you for your interest in this car. We will respond as soon as possible
Looking for a Classic Car?
Jean Michel, France

We arrived well with the Triumph. She looks really spectacular, thanks for your hospitality. My friend for sure will be a future customer, he was impressed.

Guy, France

We received the car on wednesday, and are very happy with it. Everything is ok and hopefully we will enjoy driving the countryside with our new car!

Katrin, Nederland

Last September, I purchased this beautiful 1975 Volkswagen "Bulli" from you. It was love on first sight and I am still a very happy driver! I can't wait to take it out on the road for our very first camping trip. Thank you once again to the entire E&R Classics team for your kind and excellent customer service. Keep up the good work!

Ben, The Netherlands

I received the agreed amount in good order. Thank you for that and for all the effort to get things done. We will say it all ends well. If anything else is needed, I would like to hear it.

Stefan, Belgium

I was at your company lately and it was a pleasant acquaintance. The sellers were very kind.

Nico, Germany

We enjoy the Stag a lot. We have it in our second home during the summer and we cruise here casually through the Bregenzer Forest. Thanks again for the perfect professional settlement.

Eric, United States

I hope everything is well. The car is GREAT!! I received it the first of May. Thanks again for such an awesome car.

Sylvie and Pierre, Belgium

Thanks for your advice. We are very satisifed with your service. See you for our next purchase!

Alexandre and Nathalie, France

Thanks to your team for my dream.

Mickael, France

Hi Ernest, I have received my Triumph in good condition. She is beautiful and I am very satisfied. Thanks again for your sincerety and kindness.

Hely & Paul, Luxembourg

I just wanted to let you know that the money from our TR4 was in our account today. My wife and I would like to thank you for the good and honest handling. We felt in good hands from the first moment. The very best for you and your family and of course for the entire E&R team.

Jordi, The Netherlands

Thanks again for the effort and fantastic service! I will let you know when it is in. And of course we will come by once, this will probably be with the T1 next year.

Tom, UK

The MGA is in excellent condition, thanks guys!

Umberto, Belgium

I am satisfied from start to finish, I hope that I am very lucky with the car.

Fanny, The Netherlands

We are the proud owners of this beautiful Citroën HY Camper, E & R thanks for the good service!

Volker, Germany

MGA was delivered this morning, all the best.

Thomas, Italy

The MGA arrived this morning... Thank you so much!!!

Frank, Belgium

For several months we own our MG and I have to say I have never regret this purchase for one second. The last few weeks we have enjoyed our Maggy very much. Yes we gave the car a name with a m and g in it.

Toke, Hungary

I just want to let you know that I´m really satisfied with my new Citroen! It was a great pleasure doing business with you.

Eric, The Netherlands

Due to an illness I had to sell my recently restored MGB. I want to thank the team from ER Classics for the correct way the sell went and will recommend your company to all of my acquantances in de world of classic cars.
Read more (217)
In-house workshop with over 20 mechanics

Registration and inspections (NL/BE/DE/FR)

International door to door delivery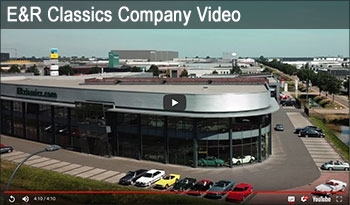 Newsletter
Stay up to date.