Buy your classic car safely online | Contact us through e-mail or telephone | Due to covid-19 regulations our showroom is closed
Classic cars for saleSell your car
CLASSIC CARS FOR SALE
Welcome to the website of E & R Classic Cars Holland, THE Oldtimer and Classic Car specialist.
Our company emerged from our passion for classic cars. Due to the successful results, E & R Classic Cars has become one of the largest classic car dealers in Europe. We're specialized in purchasing, selling and consignment of oldtimers and classic sports cars. We purchase and sell a wide range of classiccars but the emphasis lies on the following brands: MG, Triumph, Austin Healey, Jaguar, Porsche and the classic Ford Mustang. Besides these brands you'll also quite regulary find unique models from other historic brands in our showroom, such as Rolls Royce, Bentley, Buick, Cadillac, Alfa, Fiat, Volvo and Volkswagen. Come visit our showroom in Waalwijk!
Each and every oldtimer is unique and differs from another. Let us help you making the perfect choice that suits you. Circumstances such as budget, phase of life, family composition, technical knowledge and perhaps the desire to work on an oldtimer yourself vary by customer. Even if you have no technical knowledge at all you can still have fun with a well maintained oldtimer by E & R Classic Cars.
Nowadays you don't need to work on oldtimers yourself anymore, those days are over. However, we also do have restoration cars for enthusiasts who like to restore a vintagecar themselves. We can also assist in a restoration project.


BUYING A CLASSIC CAR?
We always have over 250 classic-cars for sale. Looking for an original classic car? You've come to the right place! The oldtimers in our inventory are coming from all over the world. Because of our competitive prices, we sell our classic cars worldwide, and have experience in arranging transport around the globe. Besides purchasing, selling and consignment, we also offer technical services in a fully equipped workshop with specialized and trained oldtimer-mechanics. We can provide you with all necessary activities to your classiccar. Wether your oldtimer needs welding, painting, service or repair, you're always welcome to our workshop.
All cars sold by ERclassics (except restauration projects) have been thoroughly tested and checked with a 125 points checklist in our professional workshop. Through our years of experience we have been able to develop this complete checklist to guarantee quality and safety of our classic cars. Our comprehensive classic car checklist contains items such as corrosion and damage inspections, cylinder compression tests and much more. After completing the checklist, repairs or maintenance will be performed if necessary, so we can make sure that you'll be buying a roadworthy and fully reliable classic car!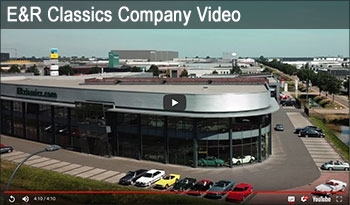 In-house workshop with over 20 mechanics

Registration and inspections (NL/BE/DE/FR)

International door to door delivery
Sam, UK

Received the Porsche 912 today. Exactly what we expected. Thank you very much.

Henk en Sylvia, The Netherlands

Good evening, Mr. Ernst van Kempen. I can confirm that the amount for the Jeep has been credited to my account. I would therefore like to compliment you on the correct completion of the sale. I found this very pleasant. Hope that the new owner will have as much driving pleasure as we had with the Jeep.

Paul, UK

Hi, received my MGA ok. Many thanks, I'm very happy with my purchase.

Paul, the Netherlands

I picked up the car today. I had not yet driven on the highway, but I really enjoyed it. The overdrive is also perfect. With my previous MGs I have driven 2x 10 years; I also expect to enjoy this car for a very long time.

Michel, France

I am already a customer at home having bought last year a MG TF which I am very happy with.I am organizing a mini rally for 6 Oldtimers of friends to visit the Tulips in Keukenhof around April 20, 2019. I have Imagine stopping at home in the morning for a visit (if possible guided) in French.It will be possible.We have of course all the time to define the date and the organization.My friendships.

Didier, France

We have received the car very well on tuesday 19 July, it is great.

Laurent, France

Thank you very much for the purchase and the delivery, the vehicle is superb! Good efficiency of the transport and certainty of your company.

Jacob, The Netherlands

Thanks for selling my Triumph TR6 so fast and the smooth process. It was nice doing business with you.

Marjolein, The Netherlands

Super happy with my car. Great service. Very happy with the radio, speakers, hubcaps and the beautiful steering wheel. All it needs is sun!

Marcel, Germany

The car came yesterday and I was really happy. Thank you so much that everything went great. Would recommend you at any time.

Rolf, Germany

We are very happy with the Spitfire and have since been able to convince my son of the beautiful car. Thanks again for the very good cooperation in the purchase of this beautiful car.

Yvan , France

I have received the transfer corresponding to the number of defective tires and thank you very much. Many other garages would have been long and very difficult and we would have ended up getting angry. I think Er Classic isn't a garage like the others, you've fallen in love with beautiful cars and if you're like you, you can only behave like you do. Around me I talk a lot about you and I think the consequences will not last too long. Thank you again for your professionalism, your seriousness, your kindness and your honesty.

Andreas & Andrea, Germany

I would like to thank you in this way, thank you very much for the smooth and straightforward purchase of the VW convertible with vintage license. My wife and I are thrilled with the vintage car, it fits in very well with our past. The transfer took place excellent despite the storm on this day, also supported by the very nice and sympathetic driver. The vehicle is perfect for me and the approval here went smoothly in no time, thanks to the good preparation by your company ..... everything was great

Joseph, Malta

My friend went to pick up the car and its in the garage in my home in Malta. They told me its in mint condition and they are crazy about it.

Jasper, The Netherlands

It's good to know the S-type sold that quick! I didn't expect this to happen and I guess you did neither. I experienced your service as very joyful and correct. Thanks !

Christophe, Belgium

The car is here and it is great! Thanks again!

Patrick, France

Thank you very much to your friendly team. The Triumph GT6 is beautiful and I am very happy to drive it. My dream is now reality, thanks to your help.

Birgit & Andreas, Germany

Two years ago we bought a grey Morgan plus 4 four seater from your company. So far we are very satisfied with this car and passed the German MOT(TÜV) straight away. Many thanks from the Rein family.

Nick, Spain

We arrived safely in Mallorca. Thank you very much for preparing the car so well.

Lewis, Canada

I would just like to congratulate the owners of the company and a special well done to the people who do the photographic work on your web site. When the time is right I will be back for a more serious look.
Read more (248)